Ruby on rails
SassMe | A Tool for Visualizing SASS Color Functions
wroc_love.rb
1 Upgrading to Rails 3.1 If you're upgrading an existing application, it's a great idea to have good test coverage before going in. You should also first upgrade to Rails 3 in case you haven't and make sure your application still runs as expected before attempting to update to Rails 3.1.
Ruby on Rails 3.1 Release Notes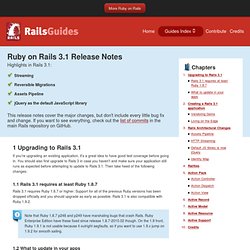 Screencasts
Rails Searchable API Doc
[ANN] Rails 3.1.0.rc8
Hi everyone, Rails 3.1.0.rc8 has been released (we've an issue with rc7). This is the final release candidate. Please give it a try, it's our last chance to fix regressions and severe issues. We will be releasing final 3.1.0 next August 30th.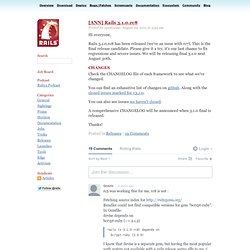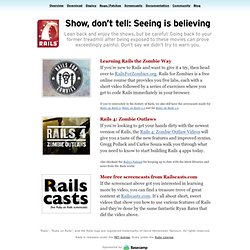 Learning Rails the Zombie Way