Ruby on rails
SassMe | A Tool for Visualizing SASS Color Functions
wroc_love.rb
1 Upgrading to Rails 3.1 If you're upgrading an existing application, it's a great idea to have good test coverage before going in. You should also first upgrade to Rails 3 in case you haven't and make sure your application still runs as expected before attempting to update to Rails 3.1.
Ruby on Rails 3.1 Release Notes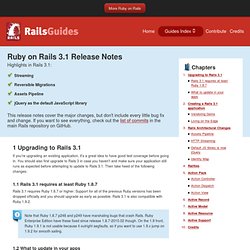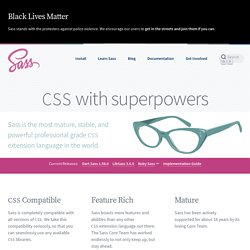 Registration is now open for Camp Sass, held in San Francisco on April 19th. CSS Compatible Sass is completely compatible with all versions of CSS. We take this compatibility seriously, so that you can seamlessly use any available CSS libraries. Feature Rich Sass boasts more features and abilities than any other CSS extension language out there. The Sass Core Team has worked endlessly to not only keep up, but stay ahead. Mature Sass has been actively supported for over 7 years by its loving Core Team.
Screencasts
Hackety Hack uses the Shoes toolkit to make it really easy and fun to build graphical interfaces. Several lessons and example programs are provided, showing you how to make all kinds of fun things! Check out what other people are doing with Hackety Hack!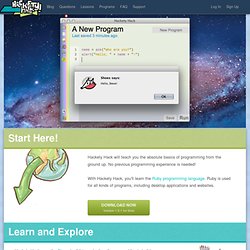 Rails Searchable API Doc
[ANN] Rails 3.1.0.rc8
Hi everyone, Rails 3.1.0.rc8 has been released (we've an issue with rc7). This is the final release candidate. Please give it a try, it's our last chance to fix regressions and severe issues. We will be releasing final 3.1.0 next August 30th.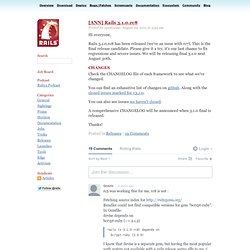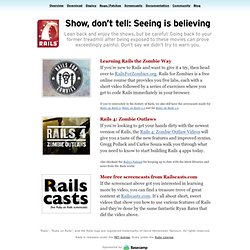 Learning Rails the Zombie Way If you're new to Rails and want to give it a try, then head over to RailsForZombies.org. Rails for Zombies is a free online course that provides you five labs, each with a short video followed by a series of exercises where you get to code Rails immediately in your browser. If you're interested in the history of Rails, we also still have the screencasts made for Ruby on Rails 2, Ruby on Rails 0.5 and for Ruby on Rails 1.0.
Introducing the upgraded way to learn Ruby on Rails in the browser, with no additional configuration needed. Learning Rails for the first time should be fun, and Rails for Zombies allows you to get your feet wet without having to worry about configuration. You'll watch five videos, each followed by exercises where you'll be programming Rails in your browser. Don't worry if you've played Rails for Zombies before — you get to start fresh with new achievements.