Museum blogs
A History of the World in 100 objects › The British Museum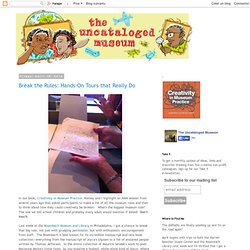 The Uncataloged Museum
As long-time readers of the Uncataloged Museum may know, I have a special interest in Ukraine, starting from my time as a Fulbright Scholar and continued through ongoing visits and projects. Not surprisingly, I've been following the events in Kyiv (more often misspelled in the US press as Kiev, the Russian spelling). Several weeks ago, as protests began I wrote a post where I was so bold as to suggest what museums in the capital might be doing as the protests, now called EuroMaidan (for European integration and held on Maidan, the main square) became more powerful, stronger and expanded out from the idea of integration with Europe. It became hundreds of thousands of people working towards a more civil society, turning away from the corruption that characterizes Ukraine's current leadership. (If you want to keep up, the Kyiv Post, in English, is the best place to find information).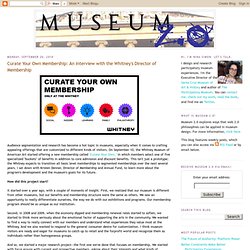 Curate Your Own Membership: An Interview with the Whitney's Director of Membership
Audience segmentation and research has become a hot topic in museums, especially when it comes to crafting appealing offerings that are customized to different kinds of visitors. On September 10, the Whitney Museum of American Art started offering a new membership called "Curate Your Own," in which members select one of five specialized "buckets" of benefits in addition to core admission and discount benefits. This isn't just a prototype; the Whitney expects to transition all basic level memberships to segmented memberships over the next several years.
I just got home from the Museums and the Web conference in Indianapolis. I'd never attended before and was impressed by many very smart, international people doing radical projects to make museum collections and experiences accessible and participatory online. But I left uneasy, grappling with questions that plagued me throughout the conference.
Are Museums Evolving with their Innovative Web Strategies?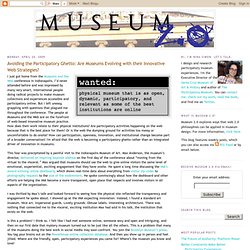 Avoiding the Participatory Ghetto: Are Museums Evolving with their Innovative Web Strategies?
An Open Letter to Museums on Twitter
Note: this is a geeky post that assumes familiarity with Twitter. If you are new to Twitter, please check out this post for more context. Dear Museums on Twitter, Thanks for experimenting in a new and largely uncharted online environment. It's not easy, and many of you are taking innovative, exciting approaches to it.