Museum blogs
A History of the World in 100 objects › The British Museum
The Uncataloged Museum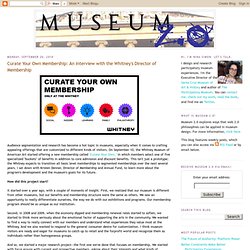 Curate Your Own Membership: An Interview with the Whitney's Director of Membership
Audience segmentation and research has become a hot topic in museums, especially when it comes to crafting appealing offerings that are customized to different kinds of visitors. On September 10, the Whitney Museum of American Art started offering a new membership called "Curate Your Own," in which members select one of five specialized "buckets" of benefits in addition to core admission and discount benefits. This isn't just a prototype; the Whitney expects to transition all basic level memberships to segmented memberships over the next several years.
I just got home from the Museums and the Web conference in Indianapolis. I'd never attended before and was impressed by many very smart, international people doing radical projects to make museum collections and experiences accessible and participatory online. But I left uneasy, grappling with questions that plagued me throughout the conference.
Are Museums Evolving with their Innovative Web Strategies?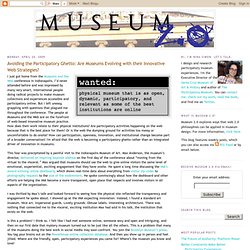 Blog Archive » On the Hill: 'Preservation Has Played Second Fiddle For Too Long'
Avoiding the Participatory Ghetto: Are Museums Evolving with their Innovative Web Strategies?
An Open Letter to Museums on Twitter
Note: this is a geeky post that assumes familiarity with Twitter .