Google+
Google+ : comment basculer facilement de logué pro à logué perso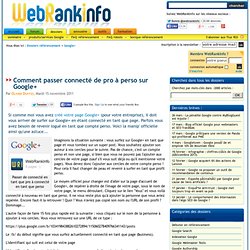 Par Olivier Duffez, Mardi 15 novembre 2011 Si comme moi vous avez créé votre page Google+ (pour votre entreprise), il doit vous arriver de surfer sur Google+ en étant connecté en tant que page.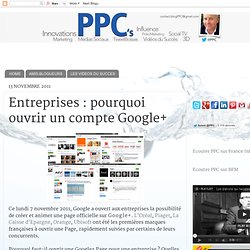 Entreprises : pourquoi ouvrir un compte Google+
Ce lundi 7 novembre 2011, Google a ouvert aux entreprises la possibilité de créer et animer une page officielle sur Google+ .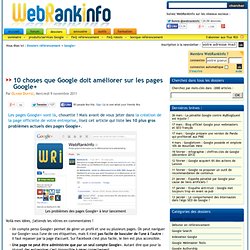 Par Olivier Duffez, Mercredi 9 novembre 2011 Les pages Google+ sont là, chouette !
Les 10 choses les plus pénibles avec les pages Google+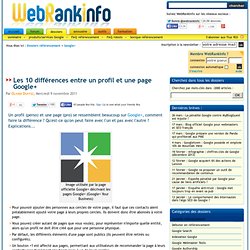 Les 10 différences entre profils et pages Google+
Par Olivier Duffez, Mercredi 9 novembre 2011 Un profil (perso) et une page (pro) se ressemblent beaucoup sur Google+, comment faire la différence ?
In life we connect with all kinds of people, places and things. There's friends and family, of course, but there's also the sports teams we root for, the coffee shops we're loyal to, and the TV shows we can't stop watching (to name a few). So far Google+ has focused on connecting people with other people.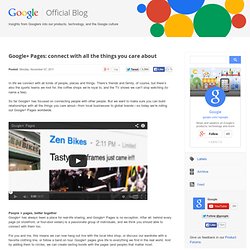 A Guide to Google+ Privacy and Information Control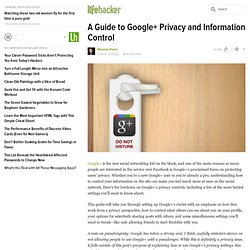 That pretty much explains the weird pseudo stalker self-important narcissistic lonely awkward attention seeker vibe I've gotten from Google+ Circles. F-book implements a simple grade-school system of passing a note across class to confirm mutual friendship.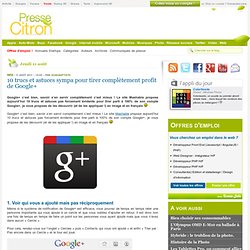 10 trucs et astuces sympa pour tirer complètement profit de Google+
Google+ c'est bien, savoir s'en servir complètement c'est mieux !
5 sites pour tirer profit de Google+
Mercredi 10 août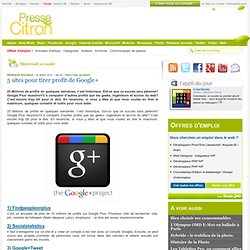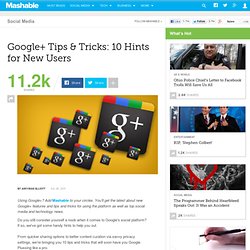 Using Google+?
Using Google+? Add Mashable to your circles. You'll get the latest about new Google+ features and tips and tricks for using the platform as well as top social media and technology news.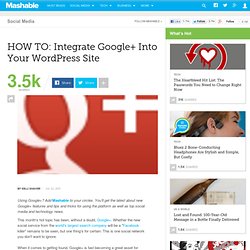 HOW TO: Integrate Google+ into Your WordPress Site
Si vous aussi vous avez du mal à faire partager votre enthousiasme pour Google+, cet article est fait pour vous.
Google+ expliqué à ma copine
26 Ressources Indispensables Pour Comprendre Et Utiliser Google Plus
Google Plus est parmi nous depuis un peu plus d'un mois et déjà de nombreuses informations intéressantes ont été publiées à son sujet.
Voilà presque un mois que Google a lancé sa plateforme sociale Google+ : Google lance sa plateforme sociale unifiée Google+. Beaucoup d'agitation et de spéculations autour de cette nouvelle plateforme qui a fait grand bruit. Il faut dire que le programme de déploiement par invitation a généré beaucoup d'attente et de frustration.
Le widget Google+, pour racoler sans se fatiguer
Vous avez un site, un blog, enfin un truc perso à base de HTML qui vous permet d'afficher ou de publier des choses sous votre nom sur internet et vous voulez élargir le cercle de vos amis (quoi ?)