writing stuff
Get flash to fully experience Pearltrees
From: San Francisco Vocal Coaching's "Singing, Songwriting and Performance" Class (I've also taught it at Princeton University.) How To Write A Song, Exercise 1 (for beginners, or for writer's block): Write a letter to someone you feel intensely about something you feel intensely about. If you don't feel intensely about anyone or anything, pretend you are someone else: a character from a book, a play, or a painting, or someone else you know. Use a spiral notebook and write six to ten single sided pages on the right hand side, leaving the left sides blank.
Previous iterations of the "25 Things" series: 25 Things Every Writer Should Know 25 Things You Should Know About Storytelling And now… Here you'll find the many things I believe — at this moment!
The New York Times recently published a list of 50 fancy words that most frequently stump their readership. They are able to measure this data thanks to a nifty in-page lookup mechanism, which you can try here . Try double-clicking the word "epicenter". Since the NYT didn't include definitions of these words, I decided to post a job to MediaPiston to produce an article defining and using each word in the list.
October 7th, 2010 I'm really going to try to cut down on the number of email forwards I use as posts here, but I can't help it; this one is funny! Some of this stuff is just untrue slanders, but not #6 and #13! Of course, one solution to all this is just for writers to date other writers, so that both partners' quirks will cancel each other out and you'll be totally charmed by each others' pretensions.
How to Write With Style by Kurt Vonnegut Newspaper reporters and technical writers are trained to reveal almost nothing about themselves in their writings. This makes them freaks in the world of writers, since almost all of the other ink-stained wretches in that world reveal a lot about themselves to readers. We call these revelations, accidental and intentional, elements of style.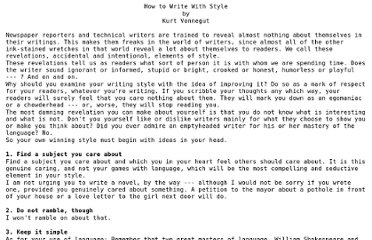 The National Magazine Award finalists have been announced , one day after NYU announced the predominantly male 100 most outstanding journalists of the past 100 years . And like NYU's list, the ASME's are pretty male-dominated . Unfortunately, it shouldn't come as too much of a surprise that men are taking home the lion's share of the awards in categories like profile writing, feature writing, reporting, and essays and criticism. After all, women's literary organization VIDA crunched the numbers of female vs. male bylines in a range of magazines back in February and found that, yep, by and large, more men than women are published as contributors, "even if," as Megan O'Rourke writes in Slate , "the ratios at literary journals are notably less lopsided than those at more politics and current events-oriented magazines."
Post written by Leo Babauta . Creators of any kind must find their voice. We are writers, musicians, designers, programmers, parents, builders of anything.
I read this cool article last week — " 30 Things To Stop Doing To Yourself " — and I thought, hey, heeeey , that's interesting. Writers might could use their own version of that. So, I started to cobble one together. And, of course, as most of these writing-related posts become, it ended up that for the most part I'm sitting here in the blog yelling at myself first and foremost. That is, then, how you should read this: me, yelling at me. If you take away something from it, though?