Wacom bamboo
Wacom Bamboo. Wacom. To discuss this guide, please use this Ubuntu forums thread.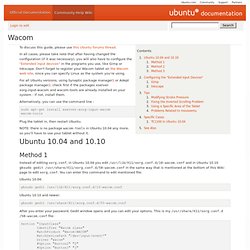 In all cases, please take note that after having changed the configuration (if it was necessary), you will also have to configure the "Extended input devices" in the programs you use, like Gimp or Inkscape. Don't forget to register your Wacom tablet on the Wacom web site, since you can specify Linux as the system you're using. For all Ubuntu versions, using Synaptic package manager1 or Adept package manager2, check first if the packages xserver-xorg-input-wacom and wacom-tools are already installed on your system - if not, install them.
Alternatively, you can use the command line : sudo apt-get install xserver-xorg-input-wacom wacom-tools. Get Wacom Bamboo Pen Working in Ubuntu Lucid - Frank Groeneveld. The new Wacom Bamboo Pen (CTL-460) doesn't work in Ubuntu Lucid out-of-the-box.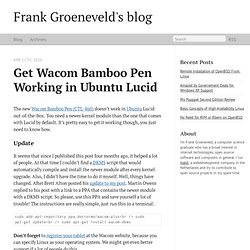 You need a newer kernel module than the one that comes with Lucid by default. It's pretty easy to get it working though, you just need to know how. Update It seems that since I published this post four months ago, it helped a lot of people. At that time I couldn't find a DKMS script that would automatically compile and install the newer module after every kernel upgrade. Wacom_bamboo. Products - Bamboo - Overview.
---