Marcel duchamp
"Nu descendant un escalier" Marcel Duchamp (interview, 1963) Marcel Duchamp à propos du "ready-made" Marcel Duchamp, Double Exposure: Full Face and Profile, by Victor Obsatz. Filip Noterdaeme: The Drama of the Gifted Duchamp. Here is a gem of a show that, although small in scale, yields too many intellectual and aesthetic pleasures to be ignored.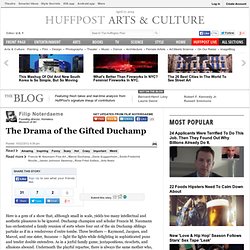 Duchamp champion and scholar Francis M. Naumann has orchestrated a family reunion of sorts where four out of the six Duchamp siblings partake as if in a rendezvous d'outre tombe. Three brothers -- Raymond, Jacques, and Marcel, and one sister, Suzanne -- light the lights while delighting in sophisticated puns and tender double entendres. As in a joyful family game, juxtapositions, ricochets, and allusions abound.
Underneath the playful repartee, there is always the same mother who, according to the catalog, spent much of her free time drawing and painting, and whose own father, Emile-Frederick Nicolle (1830-1894), was a printmaker of considerable talent. N° 296 - du 21 mars 2013 au 27 mars 2013. Artiste en 1914 : les planqués du camouflage «Z'êtes peintre dans l'civil ?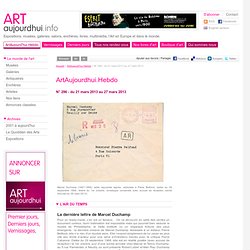 Eh ben, allez nous barioler !» C'est sans doute par la saveur élimée de cette blague de caserne que furent enrôlés le sergent Dunoyer de Segonzac, Paul Landowski, André Lhote, Paul Laurens, Joé Hamman... et tant d'autres pastellistes et orientalistes, graveurs ou décorateurs mutés à la «section de camouflage». En 1914, la France enfile pour la guerre son très voyant pantalon rouge - quand les Allemands sont en feldgrau et les Tommies en réséda. Sidérés par l'hécatombe, nos pros de la couleur et du trompe-l'œil proposent leur service : copier le milieu, casser les lignes, décomposer les tons...
---