Curation yes
« Curation » ou webinage? Un concept à ne pas louper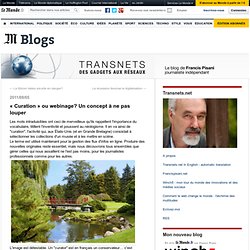 Les mots intraduisibles ont ceci de merveilleux qu'ils rappellent l'importance du vocabulaire, titillent l'inventivité et poussent au néologisme. Il en va ainsi de "curation", l'activité qui, aux États-Unis (et en Grande Bretagne) consistait à sélectionner les collections d'un musée et à les mettre en scène. Le terme est utilisé maintenant pour la gestion des flux d'infos en ligne.
« Curation » ou webinage? Un concept à ne pas louper by agnesdelmotte Aug 5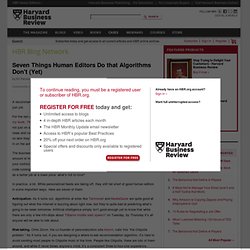 Seven Things Human Editors Do that Algorithms Don't (Yet) - Eli Pariser - The Conversation
by Eli Pariser | 10:20 AM May 26, 2011 A recommendation from the recommendation frontier: You may not want to fire your human editor just yet. For the last year, I've been investigating the weird, wild, mostly hidden world of personalization for my book, The Filter Bubble. The "if you like this, you'll like that" mentality is sweeping the web — not just on sites like Amazon and Netflix that deal with products, but also on sites that deal with news and content like Google search (users are increasingly likely to get different results depending on who they are) and Yahoo News. Even the New York Times and the Washington Post are getting in on the act, investing in startups that provide a "Daily Me" approach to the newspaper. The business logic behind this race to personalize is quite simple: if you can draw on the vast amount of information users often unwittingly provide to deliver more personally relevant content, your visitors have a better experience and keep coming back.
Très bientôt, le contenu accessible sur Internet doublera toutes les 72 heures. Trouver une information pertinente deviendra une tâche encore plus ardue!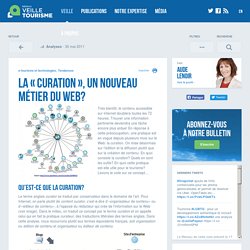 Vendredi 18 mars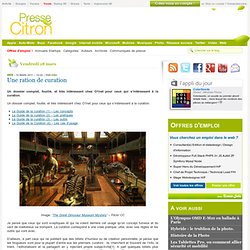 "Je pense que ceux qui sont sceptiques et qui ne voient derrière cet usage qu'un concept fumeux et du vent de marketeux se trompent. La curation correspond à une vraie pratique, utile, avec ses règles et les outils qui vont avec." by agnesdelmotte Mar 20
La Social Media Week parisienne débutait hier avec une conférence organisée par Pearltrees, Scoopit, ReadwritewebFr et la Région Ile de France et consacrée à la curation.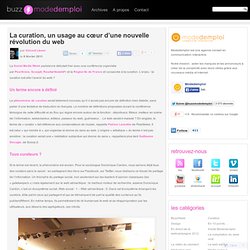 Les termes Curation ou Curator (Curateur par abus de langage) ne vous disent sans doute encore rien, mais préparez-vous car c'est la dernière tendance du web. D'abord popularisé aux Etats-Unis, le sujet est en train de se développer en France avec d'ailleurs un titre évocateur pour cette première conférence-débat le 7 février : « La Curation, avenir du Web ? »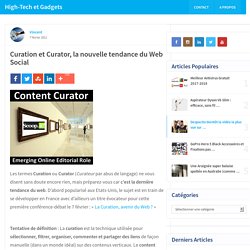 Il y a eu le web 1.0, puis le 2.0, ou encore le web social, participatif. A chaque phase de développement du web, un nouveau nom. Depuis mars dernier, les experts web américains discutent «curation».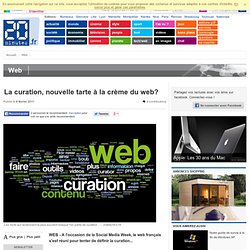 Editor's note: This is a guest post submitted by Mahendra Palsule, who has worked as an Editor at Techmeme since 2009.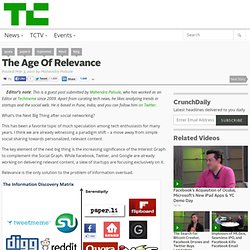 Every hour thousands of new videos are uploaded online. Blog posts are written and published.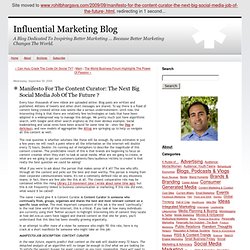 Manifesto For The Content Curator: The Next Big Social Media Job Of The Future ?
Wednesday, September 30, 2009 by agnesdelmotte Mar 15
Web sémantique et édition humaine
You Might Already Be A Curator...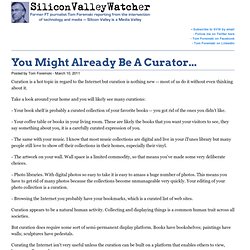 Posted by Tom Foremski - March 10, 2011
'Curating the Internet isn't very useful unless the curation can be built on a platform that enables others to view, browse, collect, and connect.

It is only fairly recently that we've gotten the tools for effective curation on the Internet. This year you will see a flood of curation tools and services. Which one will you use?' by agnesdelmotte Mar 11
Lancé en 2009, l'outil de curation de contenus web Pearltrees (voir ici une présentation détaillée) fait figure d'exception dans la famille des « réseaux éditoriaux participatifs » incarnés par Scoop.it, Curated.ly ou encore Storify.com.
"L'aspect visuel est fondamental." (laurence saquer) by agnesdelmotte Mar 10
Storify, vers une nouvelle forme de journalisme
>> Comment est né Storify ?
Curation quelle opportunité pour les entreprises et pour les médias ? - techtoc.tv, web-tv
La "content curation" est ce nouveau mot en France, qui fait irruption 6 mois après son utilisation aux Etats-Unis.
Web 2.0 | Métiers et #Amalgames
"08 Mars 2011 : Mise à jour du visuel, nous intégrons désormais le mot « Curator » ainsi que sa fonction spécifique. Son objectif est simple, il est en charge de synthétiser l'information en provenance du web pour un double objectif : simplifier la veille d'information pour les entreprises et ralentir le flux pour les internautes." (anov blog) by agnesdelmotte Mar 8
La curation, c'est le terme à la mode, propulsé outre-Atlantique par deux poids lourds de l'influence et de l'expertise nouveaux médias, Robert Scoble et Brian Solis.
La curation, un problème d'info-riche ?
The Clip Report: An eBook on the Future of Media In the early 1990s when I began my career in PR there were clip reports. These were physical books that contained press clips.
date de l article : Wednesday, February 06, 2008 by agnesdelmotte Feb 14