Cms
/ Home » Download Nuxeo Platform 5.6 You can download the same version of Nuxeo software used for full-scale deployments, right here, right now. We don't distinguish between a "free" and an "enterprise" version - we want you to experience the full power of the Nuxeo technology from the first stages of your engagement with us. Nuxeo Platform 5.6 is the current version for deploying production-ready applications. If you want to view some of the newest features in our development version, Nuxeo Platform 5.7, download a snapshot .
Download & Try Nuxeo Open Source Content Management Products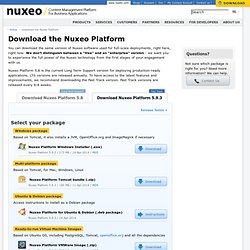 iWeb - Créez votre propre site web sur Mac.