Visual
Beauty is only skin deep! The sprawling landscapes made from nude models' bodies. By Daily Mail Reporter Updated: 12:56 GMT, 1 March 2011 At first glance they could be mistaken for any other landscape photograph.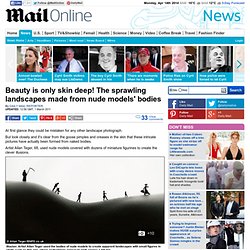 But look closely and it's clear from the goose pimples and creases in the skin that these intricate pictures have actually been formed from naked bodies. Artist Allan Teger, 68, used nude models covered with dozens of miniature figurines to create the clever illusions. Illusion: Artist Allan Teger used the bodies of nude models to create apparent landscapes with small figures in shots such as this one, where pedestrians appear to walk across a hill-top Reel nice: Mr Teger used a toy car and a figure with a road to create the appearance of a man fishing in somebody's belly button, which is filled with water.
BACK TO THE FUTURE : Irina Werning - Photographer. I love old photos.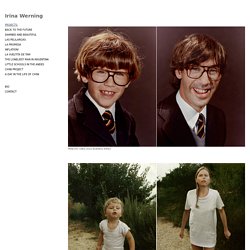 I admit being a nosey photographer. As soon as I step into someone else's house, I start sniffing for them. Most of us are fascinated by their retro look but to me, it's imagining how people would feel and look like if they were to reenact them today… Two years ago, I decided to actually do this. So, with my camera, I started inviting people to go back to their future.. Lori Nix. Little People - a tiny street art project.
---