CSS
BluCSS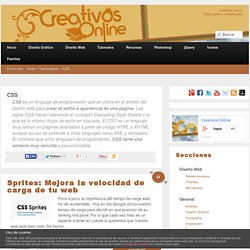 CSS - Creativos Online
Poco a poco la importancia del tiempo de carga web ha ido aumentado. Hoy en día Google utiliza nuestro tiempo de carga para decidir en que posición de su ranking nos pone. Por lo que cada vez mas, es un aspecto a tener en cuenta si queremos que nuestra web esté bien vista.
Back to the time when the look of a website must be defined inside the HTML, web designer experienced the nightmare like coding each <font> tag in every single web page. Thus, CSS (Cascading Style Sheets) comes to bring the salvation to lost web designer. It allows you to define your website's appearance with just one single external file, which saves a pretty lot of your work and make your code management easier than never before.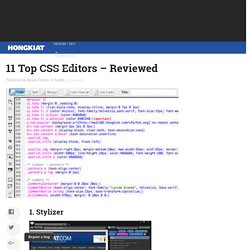 11 Top CSS Editors – Reviewed
7 Free CSS Editors, Which Is the Best? You Choose.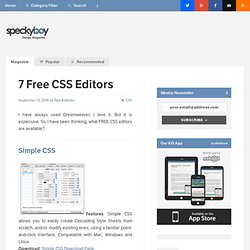 I have always used Dreamweaver. I love it. But it is expensive.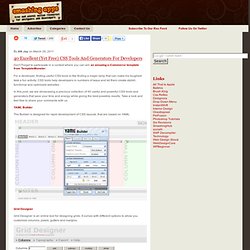 40 Excellent (Yet Free) CSS Tools And Generators For Developers
Smashing Apps has been featured at Wordpress Showcase. If you like Smashing Apps and would like to share your love with us so you can click here to rate us. For a developer, finding useful CSS tools is like finding a magic lamp that can make his toughest task a fun activity. CSS tools help developers in numbers of ways and let them create stylish, functional and optimized websites. In this post, we are showcasing a precious collection of 40 useful and powerful CSS tools and generators that save your time and energy while giving the best possible results.
Centering elements vertically with css is something that often gives designers trouble. There are however a variety of methods for vertical centering and each is fairly easy to use. Today I want to present 6 of those methods. I've usually skipped over the topic of vertical centering, since there are some good posts already out there that are easy enough to find, but recently Bikram commented requesting a tutorial on vertically centering so I thought why not. You can view demos of each of the methods below by clicking here. Clicking the images above each section will also take you to that specific demo.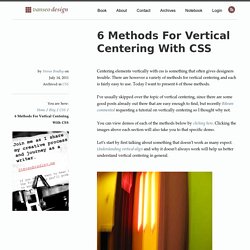 CSS Menu Generator
Lenguajes y estándares - Introducción al currículo de estándares web/contenidos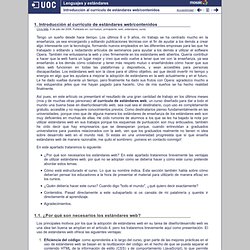 Chris Mills. 8 de julio del 2008. Publicado en: currículum, principiante, web, estándares, curso Tengo un sueño desde hace tiempo. Los últimos 8 o 9 años, mi trabajo se ha centrado mucho en la enseñanza, ya sea encargando y editando publicaciones técnicas con el fin de ayudar a los demás a crear algo interesante con la tecnología, formando nuevos empleados en las diferentes empresas para las que he trabajado o editando y redactando artículos de seminarios para ayudar a los demás a utilizar el software Opera. También me entusiasma la web y creo firmemente en los estándares web abiertos. Quería contribuir a hacer que la web fuera un lugar mejor y creo que esto vuelve a tener que ver con la enseñanza, ya sea enseñando a los demás cómo colaborar y tener más respeto mutuo o enseñándoles cómo hacer que sus sitios web funcionen en todas las plataformas y dispositivos, y sean accesibles para personas discapacitadas.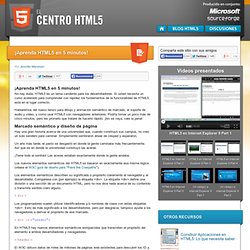 ¡Aprenda HTML5 en 5 minutos! | the HTML5 Center
¡Aprenda HTML5 en 5 minutos! No hay duda, HTML5 es un tema candente para los desarrolladores. Si usted necesita un curso acelerado para comprender con rapidez los fundamentos de la funcionalidad de HTML5, está en el lugar correcto. Hablaremos del nuevo lienzo para dibujo y animación semántico de marcado, el soporte de audio y video, y como usar HTML5 con navegadores anteriores. Podría tomar un poco más de cinco minutos, pero les prometo que trataré de hacerlo rápido. ¡No se vaya, vale la pena!
CSS-LAB.com - Ray's CSS Demos