Sysadmin
Dmidecode: What's it good for? By Joe Barr on November 29, 2004 (8:00:00 AM) You know you're living in a cutthroat world when your BIOS lies to your operating system at boot time.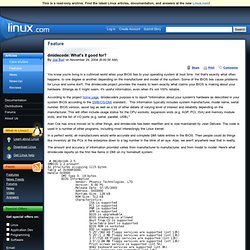 Yet that's exactly what often happens, to one degree or another, depending on the manufacturer and model of the system. Some of the BIOS lies cause problems for Linux and some don't. The dmidecode project provides the means to learn exactly what claims your BIOS is making about your hardware. Getting started with SSH - Kimmo Suominen. The following sections hope to provide enough information to setup a user new to ssh with the appropriate files necessary for accessing remote hosts in a secure manner.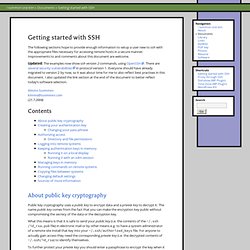 Improvements to and comments about this document are welcome. Updated: The examples now show ssh version 2 commands, using OpenSSH.
Calculator. Apache. How to clone virtual machines in VMware ESXi. Updated: April 8, 2009 This tutorial may not be applicable to many home users, but if you happen to be using VMware ESXi in your environment for whatever reason, then you will like this article.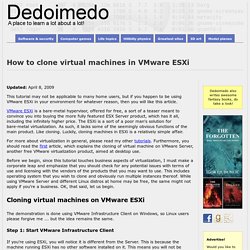 VMware ESXi is a bare-metal hypervisor, offered for free, a sort of a teaser meant to convince you into buying the more fully featured ESX Server product, which has it all, including the infinitely higher price. Linux Professional Institute (LPI) exam prep : Overview. Before you take the Linux Professional Institute (LPI) exams, review these developerWorks articles and tutorials, designed as self-study guides for each topic in the exams.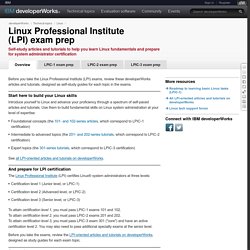 Start here to build your Linux skills Introduce yourself to Linux and advance your proficiency through a spectrum of self-paced articles and tutorials. Use them to build fundamental skills on Linux system administration at your level of expertise: Foundational concepts (the 101- and 102-series articles, which correspond to LPIC-1 certification) Intermediate to advanced topics (the 201- and 202-series tutorials, which correspond to LPIC-2 certification)Expert topics (the 301-series tutorials, which correspond to LPIC-3 certification) TECH SOURCE FROM BOHOL: 7 Best Free/Open-source Backup Software for Linux. Backup Software for Linux: A computer application utilized to perform a complete backup by duplicating the original source of data is called backup software.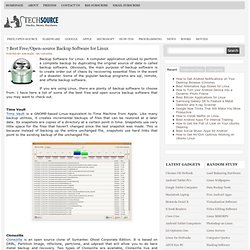 Obviously, the main purpose of backup software is to create order out of chaos by recovering essential files in the event of a disaster. Some of the popular backup programs are sql, remote, and offsite backup software. If you are using Linux, there are plenty of backup software to choose from. I have here a list of some of the best free and open source backup software that you may want to check out.
---