Foucault
The fictions of Foucault's scholarship - Times Literary Supplement. Extreme Prejudice: notes on Andrew's Scull's TLS review of Foucault's History of Madness « Foucault blog. Colin Gordon has provided the text of a letter he wrote to the TLS in response to Scull, which they have declined to publish.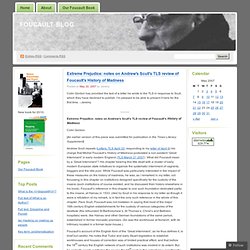 I'm pleased to be able to present it here for the first time. –Jeremy. Scull's fun and factoids: or Foucault in round one. A couple of months ago, Andrew Scull published a scathing review of Foucault's The History of Madness, which is out in a new translation, in the TLS.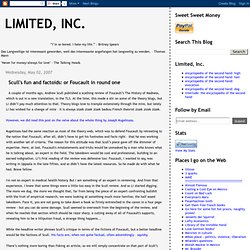 At the time, this made a stir on some of the theory blogs, but LI didn't pay much attention to that. Theory blogs love to trample extensively through the mire, but lately LI has wished for a change of mire – it is always zizek zizek zizek badiou French theorist zizek zizek zizek. However, we did read this post on the valve about the whole thing by Joseph Kugelmass. Kugelmass had the same reaction as most of the theory web, which was to defend Foucault by retreating to the notion that Foucault, after all, didn't have to get his footnotes and facts right – that he was working with another set of criteria. The reason for this attitude was that Scull's piece gave off the shimmer of expertise.
---