Curation
Get flash to fully experience Pearltrees
Login Be more productive! Questions
Writers Forum Magazine, June 2010 This article has been extended online. Ebook applications now outnumber games in Apple's iTunes store. Sean McManus reveals how you can create your own application and tap into a market of over 50 million customers. Ask a room full of writers what the difference between a book and an ebook is. Some wag will doubtless say "the e".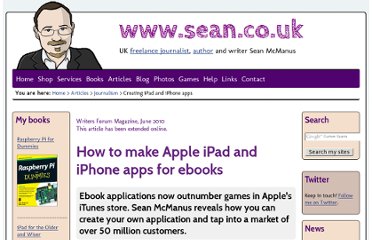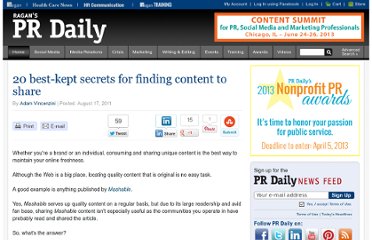 Whether you're a brand or an individual, consuming and sharing unique content is the best way to maintain your online freshness. Although the Web is a big place, locating quality content that is original is no easy task. A good example is anything published by Mashable . Yes, Mashable serves up quality content on a regular basis, but due to its large readership and avid fan base, sharing Mashable content isn't especially useful as the communities you operate in have probably read and shared the article. So, what's the answer? There's no silver bullet solution to this challenge, but there are some great online information sources that can help.
As the web becomes more and more inundated with blogs, videos, tweets, status updates, news, articles, and countless other forms of content, "information overload" is something we all seem to suffer. It is becoming more difficult to weed through all the "stuff" out there and pluck out the best, most share-worthy tidbits of information, especially if your topic is niche. Let's face it, Google definitely has its shortcomings when it comes to content curation and the more it tries to cater to all audiences, the less useful it becomes.
Tech writer and developer Gina Trapani was recently honored on Fast Company's, " The Most Influential Women in Tech: The Bloggers ," list. The founding editor of Lifehacker.com , a daily weblog on software and personal productivity, Trapani authored a book based on the web site which is in its second edition: Upgrade Your Life: The Lifehacker Guide to Working Smarter, Faster, Better . In this post, Trapani and Barb Dybwad , director of production, Crowd Fusion , producer and editor, Obsessable , and senior editor emeritus, Engadget , share tools that help speed up and streamline blogging. Blog From Firefox ScribeFire is an add-on for Firefox that lets you seamlessly blog from any page you happen to be on. Easily drag and drop images from a web page into ScribeFire to republish; saves time switching to an external image editor and FTP client.