Fashion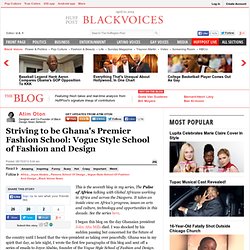 This is the seventh blog in my series, The Pulse of Africa talking with Global Africans working in Africa and across the Diaspora. It takes an inside view on Africa's progress, issues on arts and culture, technology and opportunities in this decade. See the series here . I began this blog on the day Ghanaian president John Atta Mills died. I was shocked by his sudden passing but concerned for the future of the country until I heard that the vice-president as taking over peacefully.
Atim Oton: Striving to be Ghana's Premier Fashion School: Vogue Style School of Fashion and Design
9 Easy Tricks to Maximize Your Wardrobe | LearnVest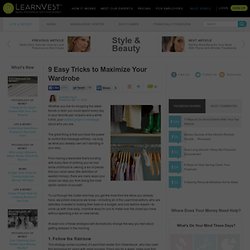 Whether you live for shopping the latest trends or wish you could spend every day in your favorite pair of jeans and a white t-shirt, your clothes project a message about who you are. The great thing is that you have the power to control that message entirely—as long as what you already own isn't standing in your way. From having a wardrobe that's bursting with every item of clothing you've had since childhood to owning a ton of pieces that you never wear (the definition of wasted money), there are many ways your closet can stop you from being the most stylish version of yourself. To cut through the clutter and help you get the most from the items you already have, we polled everyone we know—including all of the LearnVest editors, who are definitely invested in looking their best on a budget, and one fashion expert—to come up with nine easy, inventive ways for you to make over the closet you have without spending a ton on new trends.
Shop Women's designer fashion dresses, tops | Size 0-26W & Custom clothes
Bombshell Vintage Clothing
23rd outfit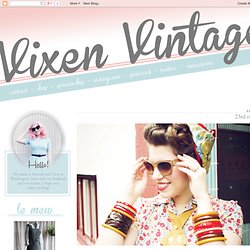 Sunday Sam and I walked around 23rd for some window shopping. It was really nice to see the area so bustling and busy, when the economy first sunk there were so many empty shop fronts, but so many great things have opened up recently.
Oregon College of Art & Craft - Student Art Gallery
amai unmei The company Amai Unmei is a contemporary interpretation of classic apparel for the savvy style maven. Known for simplicity, clean lines, and rich eclectic colors, Amai Unmei updates traditional silhouettes with modern fit and impeccable style. Designer Allison Covington took steps to launch the high-end women's apparel line under the name Amai Unmei (ah-mah'-ee oon'-may) – Japanese for 'sweet destiny'.
Amai Unmei :: About Us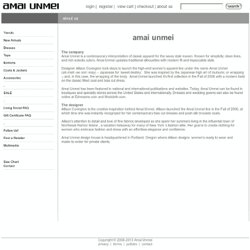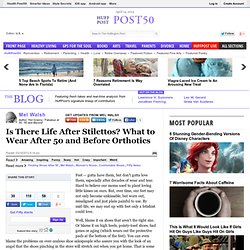 Feet -- gotta have them, but don't gotta love them, especially after decades of wear and tear. Hard to believe our moms used to plant loving little kisses on ours. But, over time, our feet may not only become unkissable, but worn out, misaligned and just plain painful to use. By mid-life, we may end up with feet only a fetishist could love. Well, blame it on shoes that aren't the right size. Or blame it on high heels, pointy-toed shoes, bad genes or aging (which wears out the protective pads at the bottom of the feet).
Mel Walsh: Is There Life After Stilettos? What to Wear After 50 and Before Orthotics
Methodology Digital influence is more than pageviews and visitors: it's what the people who see the pages and visit a site do after that. When people blog about a story they've read for their own audience, or share a photo they loved across social networks, the influence of a site expands. The Style99 ranks the online influence of fashion and beauty blogs using link data from Google and Majestic SEO for web links, and the Facebook and Twitter APIs for social data. The total score is weighted towards quality of engagement, rather than top level numbers.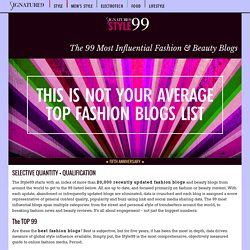 UMA WANG Spring 2011 Show Shanghai Fa | FashionTV - FTV.com
Etro: Spring / Summer 2011 collection from Milan Fashion Week
Etro women's spring summer fashion shows
Article # 6 How to choose the best silhouette for you in vintage clothing silhouette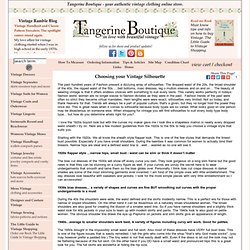 Choosing your Vintage Silhouette The past hundred years of Fashion present a dizzying array of silhouettes. The dropped waist of the 20s, the broad shoulder of the 40s, the nipped waist of the 50s.....bell bottoms, maxi dresses, leg o mutton sleeves and on and on… The beauty of wearing vintage is that it offers endless choices with something to suit every taste. This variety works perfectly in todays fashion world, women are no longer slaves to fashion dictates as they were in the past. Fashion trends of the past were often so strict they became virtual mandates. Hem lengths were were exact, silhouettes very limited.
Designers talk style do's and don'ts
Keep Mom's sound style advice, but ditch the rules that might make your look a little too dated. Some fashion rules get the boot while others are here to stay Wearing an all-black ensemble isn't just for funerals anymore It's always better to be overdressed than underdressed (Real Simple) -- Were Mom's fashion rules made to be broken?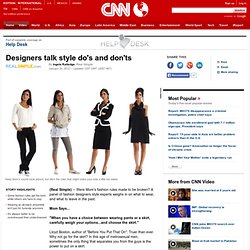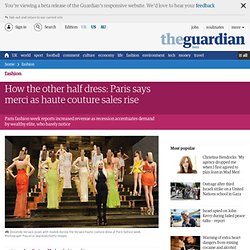 Donatella Versace poses with models during the Versace haute couture show at Paris fashion week. Photograph: Pascal Le Segretain/Getty Images Paris Haute Couture is the most exclusive and expensive branch of fashion – £50,000 for an outfit is not unusual – and business is booming.
How the other half dress: Paris says merci as haute couture sales rise | Fashion
I have a confession, and this is it: I buy too many clothes. I will also admit that more often than not, I will buy lots of cheap clothes in one foul credit-crunching swoop. I will also buy something just because it's on sale. And yes, this means that sometimes I don't even like it that much. Bad I know, and the worst part is that the rush is temporary and I will normally end up wearing hardly any of it. In keeping with the theme of 'New Year, New Me', I aim to turn over a leaf and begin a new chapter by predominately cutting down on unnecessary clothes purchases.
Emma Gannon: Why We Should Stop Buying Clothes We Don't Need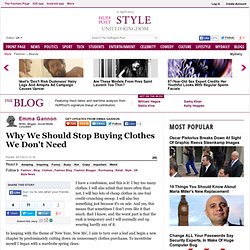 Cleaning out your closet
Pam Swidler's closet, before (left) and after a cleanse with author Jill Martin on "The Today Show.." Cleaning out your closet can also clean up your life Jill Martin's new book, "I Have Nothing to Wear!"
Fashion
Daily
Fashion The Daily Scope: Saturday, March 30, 2013 This is the week of the Full Moon, when subconscious, non-rational, intuitive forces gain supremacy and hold sway; summoning the emergence of deep energies: primordial drives, primitive psychological projections, and powerful instincts. read more The Daily Scope: Friday, March 29, 2013
Fabricly | Influence & Own Fashion
How to dress for any occasion
wp-content/uploads/2006/10/84-items-needed-to-build-the-perfect-wardrobe.pdf
Couture Redistribution: Swap, Trade, Share Designer Fashion | reFashioner
I never thought this day would come, but after many years of working completely alone, I need some help. 2013 has been awesomely busy with creative work projects, and I'm at a point where I want to keep up the pace and it feels like a perfect time to get someone else involved. If you've read this blog before, you know that I have a bunch of different projects going on. I have my vintage shop on etsy plus the new addition of the Refinery29 boutique (I'm starting work on a second collection for them!), my photography work and my line of leather goods . Of course I do wedding photography as well, but that's not involved here.