Baking
Nik Sharma: Orange And Fennel Semolina Cake. There is something fun and refreshing about the scent of almost any citrus fruit.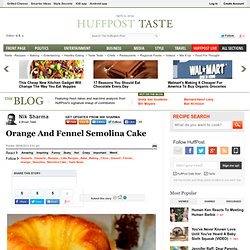 They come in a wide variety of colors, sizes, and tastes. They are rich in Vitamin C (Ascorbic acid) and other essential nutrients making them a great item at the kitchen table. Oranges are perhaps the most widely consumed fruit at our breakfast table. One of my favorite types of cakes are the semolina-based cakes that are popular in Mediterranean and Indian desserts. Cinnamon Sugar Biscotti. So….. what do you do when you forget to call your grandmother on her 80th birthday?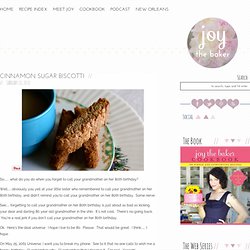 Well… obviously you yell at your little sister who remembered to call your grandmother on her 80th birthday, and didn't remind you to call your grandmother on her 80th birthday. Some nerve. See… forgetting to call your grandmother on her 80th birthday is just about as bad as kicking your dear and darling 80 year old grandmother in the shin. Russian Black Bread Recipe. Black Bread Recipe. As promised, black bread.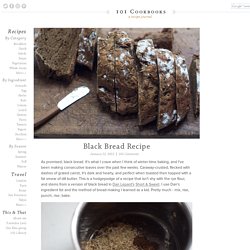 It's what I crave when I think of winter-time baking, and I've been making consecutive loaves over the past few weeks. Caraway-crusted, flecked with dashes of grated carrot, it's dark and hearty, and perfect when toasted then topped with a fat smear of dill butter. This is a hodgepodge of a recipe that isn't shy with the rye flour, and stems from a version of black bread in Dan Lepard's Short & Sweet. I use Dan's ingredient list and the method of bread-making I learned as a kid.
Focaccia Recipe : Anne Burrell. Directions Combine the warm water, yeast and sugar in a small bowl.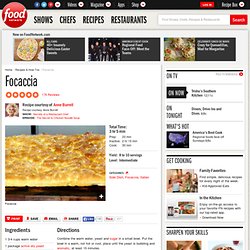 Put the bowl in a warm, not hot or cool, place until the yeast is bubbling and aromatic, at least 15 minutes. In the bowl of a mixer fitted with a dough hook, combine the flour, 1 tablespoon of kosher salt, 1/2 cup olive oil and the yeast mixture on low speed. Garlic Knots Recipe | Garlic Rolls Bread. For 10 years my working life was swallowed up by a cafe/market where we made some of the most badass garlic knots around.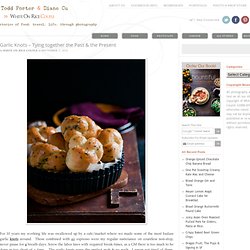 Those combined with an espresso were my regular sustenance on countless non-stop, never pause for a breath days. Screw the labor laws with required break-times, as a GM there is too much to be done in too short of a time.
---