Tools
Get flash to fully experience Pearltrees
Consumers are more demanding, time-starved, informed, and choice-saturated than ever-before. For brands to prosper, the solution is simple: become SERVILE. SERVILE means turning your brand into a lifestyle servant focused on catering to the needs, desires and whims of your customers, wherever and whenever they are. Check out new concepts, services and products that are infused with servility, from brands like Tesco, Virgin America, IKEA, Hyundai and more…
People are falling hard for Instagram , the insanely popular, free, photo sharing iPhone app. Trendsetting fashion bloggers, tech-savvy celebs and forward-thinking brands are wooing this artsy, social media-infused mobile app. This user-friendly smartphone app is appealing because it helps people transform simple iPhone photos into fancier, shareable photos in just a few clicks. Instagram filters help even the most amateur iPhone photographers turn their snapshots into art that they can then share with their friends on their personal blogs and their favorite social networks.
Guest blog from Guy Kawasaki, co-founder of Alltop ( http://alltop.com/ ) and managing director of Garage Technology Ventures . 12 Tools to Help You Rule by Guy Kawasaki Though I am a venture capitalist, I've never sought venture capital funding for my own company because I'd don't want to deal with outside investors.
Credit: fredcavazza via Flickr It doesn't make sense to jump in and use all new social media tools that come along just because everyone else is or because you think they're "cool." No one can really afford to be that unproductive with their time (or if they can, that alone speaks volumes). At Social Implications, we're big advocates of cutting through the noise by narrowing down the social media tools you use to the ones best suited for your target market or audience. That said, you can't choose the best social media tools for your business (or even personal networking) unless you know what's out there. With that in mind we've put together a list of 101 social media tools you should know about.
A couple of weeks ago I compiled a list of 10 social media tools I believe every PR pro should master by the end of 2010. The response to the post was phenomenal and prompted me to look at some more tools that might be worth adding to the 'must master' list. So, without further ado, here is round two...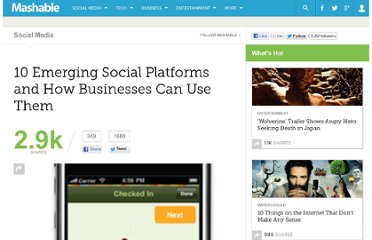 At the Social Marketers Summit in Prague today, I spoke on 10 of the most intriguing, but lesser known, location-based, Q&A, press and microblogging social platforms out there and how more businesses can start using them. The PowerPoint presentation is embedded below, and the following information expands upon it, acting as a guide to how businesses can get their hands dirty with these platforms. If your business is already active on the platforms mentioned, let us know how you are using them in the comments below. While Foursquare and Facebook Places are taking the spotlight in this arena, other apps, including Gowalla, SCVNGR, Whrrl, Loopt Star and Brightkite are making headway, as well.
The power of social media is not hidden from any one. Companies are investing millions of their advertising budget, on these sites, just to achieve their objective. The objective varies from the product and process with respect to each company.
When it comes to driving positive brand awareness, it takes a lot of time and effort to maintain a company's online reputation. Wikipedia says that a reputation is the opinion (or social evaluation) of a group, person or an organization based on certain criteria. With the dynamic nature of the social web and given that sharing content is as common as saying hello; it's imperative for brands to monitor their reputation before a particular message or allegation becomes viral that probably shouldn't have. This is equally as important for individuals. I don't remember the last time I didn't Google someone I was about to interview. In fact a recent Microsoft study (client) showed that 70% of hiring managers have rejected candidates because of what they found on the Internet.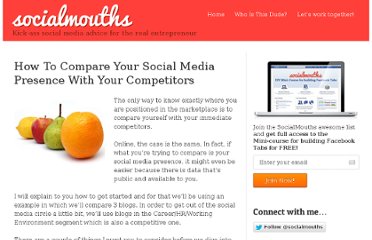 The only way to know exactly where you are positioned in the marketplace is to compare yourself with your immediate competitors. Online, the case is the same. In fact, if what you're trying to compare is your social media presence, it might even be easier because there is data that's public and available to you.