Mindstorms
Lego Projects
Engineering with LEGO MINDSTORMS NXT > Vernier Software & Technology
Welcome to the MindBOARDS website!
NXT Programming Software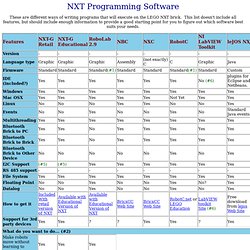 NXT Programming Software
LabVIEW for LEGO® MINDSTORMS®National Instruments
A note to the reader: some of these links may be unreachable.
LEGO MINDSTORMS Internals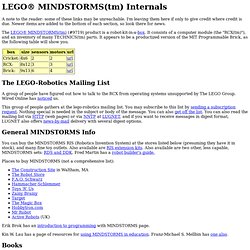 Science Through LEGO Engineering Curricula
The following four curricula are designed to introduce students (in Grades 3 to 5) to various science concepts through design-based LEGO projects.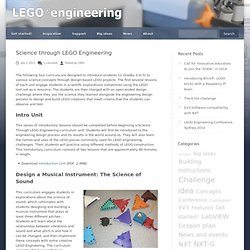 Kev's Cool Hardware Hack for converting a Lego Mindstorms NXT Light Sensor into a Laser Module!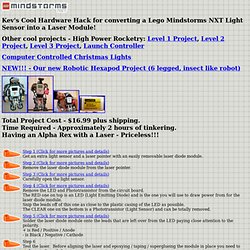 Kev's LEGO Mindstorms NXT Laser Hack
Team Hassenplug
Simple Windows Bluetooth Remote Pretty early on, I made a pretty simple Windows application, that could control an NXT over Bluetooth. I really haven't done much with it, but someone just asked me about it, so I figured I'd post it. There aren't many instructions. There is a very narrow button to the left of the "C" motor button.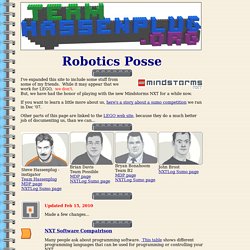 Products
The Lego Mindstorms NXT kit is an amazing upgrade to the original Lego Mindstorms product. While the building blocks are not the traditional plastic stud blocks everyone is used to, the new construction parts allow for some very complex designs. Additionally, Microsoft Robotics Studio supports the Lego NXT kit right out of the box, so it's quite easy to get up and going using MSRS with the Lego kit to start coding a robot in C# or VB.NET. With that in mind, this article will demonstrate how to use MSRS with the simple TriBot robot that can be easily built using the instructions included in the Lego NXT kit.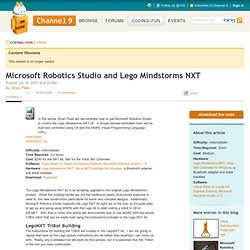 Microsoft Robotics Studio and Lego Mindstorms NXT | Coding4Fun Articles