GRY
Try EVE for free Try EVE for free You can also buy EVE now One Universe to explore and conquer EVE Live: Catastrophic Uprising lost control of 7L9-ZC system on 04/04 Nocxium traded at median 726.09 ISK in Jita on 05/04 Darkness.
Allegro.pl - aukcje internetowe, bezpieczne zakupy
EvE Online Exploration Tutorial by DNightmare
Październik 23, 2012, 00:12:36 wysłana przez DoomViews: 13690 | Comments: 1 W najbliższych dniach (około tygodnia), na centrali zostanie uruchomiona modyfikacja oparta o API. Działanie jej to blokowanie dostępu do działów KSOD i Flamewar, użytkownikom bez wprowadzonego API którejś ze swoich postaci w grze.API wymagane do otrzymania dostępu to zaznaczony jeden box w liście dostępów. Box ten to "character info".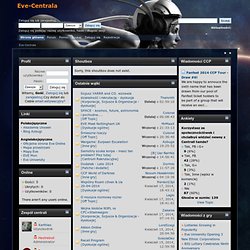 EVE CENTRALA
Kolekcjonerskie gry karciane CCG TCG, sprzedaż, skup, wymiana, listy kart, skany