Portails & Projets
Get flash to fully experience Pearltrees
My Major Company (MMC BD) s'associe au groupe Media Participations qui détient notamment Dupuis, Dargaud et Le Lombard pour lancer My Major Company BD en octobre prochain. Une initiative qui s'inscrit dans une révolution numérique qui touche la BD depuis plusieurs années. Après la musique et le livre, la BD s'aventure dans le procédé du crowdfunding, plus communément appelé le financement participatif. Le principe est simple : demander aux internautes d'investir dans un projet de bande dessinée. Michaël Goldman, le fondateur de My Major Company, explique dans un communiqué commun aux deux groupes ,qu'il cherche «à internationaliser et diversifier son offre pour devenir un leader du financement participatif culturel».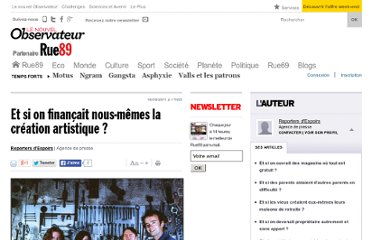 General Bye Bye (Thomas Brechignac) Grâce au Web, les créateurs disposent d'outils pour diffuser et promouvoir librement leurs œuvres. Reste à en assurer le financement pour s'affranchir de l'emprise des producteurs. Pourquoi ne pas battre le rappel de ses amis internautes pour financer la création ? S'il ne garantit pas richesse et gloire, le « crowdfunding » – littéralement « financement par la foule » – est un mode de financement participatif qui permet aux artistes de trouver des mécènes.
Realising the full Potential of Crowdfunding Initiatives
The Bielsko‐Biała Declaration approved on 18 November 2011 at Agorada 2011+ by actualiz Sep 19
The final pitches were made at Startup Weekend Tokyo yesterday. We caught all 13 presentations but only managed to understand and note down 10 of them. If you're one of those that we missed, feel free to contact us to be featured.