Just yummy
Freezer Crock Pot CookingLoving My Nest. Welcome Pinners!!!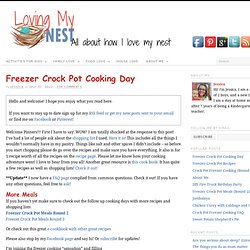 First I have to say: WOW! I am totally shocked at the response to this post! I've had a lot of people ask about the shopping list I used. Here it is! 21 Ways To Bling Out Your Brownies. Scary Easy Pumpkin Chocolate Chip Cookies. You preheated the oven to 350°, right?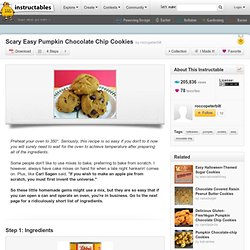 No? Well go do it now, seriously, we'll wait. Ingredients: (1) 15oz Can of Pumpkin (1) Cake Mix (any brand, any flavor) Cake Batter Fudge - 10 Minute Recipe! Ok people.
This post is coming to you in less time than it took to actually make this stuff. Which was at most 10 minutes. Want an easy and amazing treat this weekend? Or right now? I hope you have the following things: Balsamic Chicken - Family Spice. This easy marinade will make your everyday chicken dinner, something extraordinary.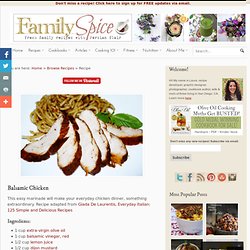 Recipe adapted from Giada De Laurentis, Everyday Italian: 125 Simple and Delicious Recipes Instructions: In a large bowl whisk together: 1 cup extra-virgin olive oil 1 cup balsamic vinegar, red 1/2 cup lemon juice 1/2 cup dijon mustard 3 garlic cloves , crushed 2 tsp salt 2 tsp black pepper, ground Add to the marinade: 6 chicken thighs 6 chicken drumsticks Turn the chicken pieces to coat, cover the bowl and refrigerate for at least 2 hours and up to one day. The longer it marinates, the better. Grand Cayman & No Bake Cookies and Cream Bars. Grand Cayman & No Bake Cookies and Cream Bars Yesterday we arrived on the third leg of our June trip.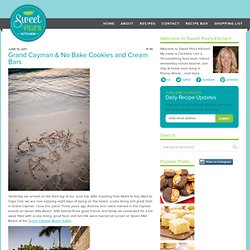 After traveling from Miami to Key West to Cape Cod, we are now enjoying eight days of laying on the beach, scuba diving and great food in Grand Cayman. I love this place! Dominican Cooking – Food, recipes, dishes and culinary culture. Caprese on a Stick. Here's a last minute appetizer for your Labor Day barbeques.
I love Caprese Salad so these little bites are a perfect snack for me. These are fresh, light, and the flavors compliment each other perfectly. The Pioneer Woman Cooks. This is a very special recipe for two important reasons: One, it's delicious, hearty, and comforting.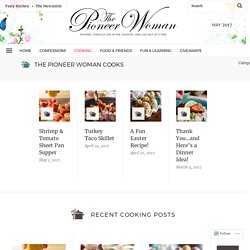 Noodles. Meatballs. No brainer! Two (and even more importantly!) , it is a part of Land O'Lakes' Pin a Meal, Give a Meal campaign. Perfect Iced Coffee. Iced coffee is my life.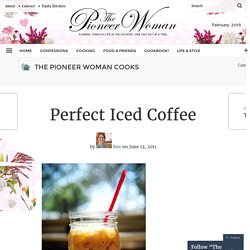 When I wake up, often around the time party animals on the west coast are just heading home, I start each day not with a cup of freshly brewed hot java, but with a tall, blessed glass of creamy iced coffee in a glass. I've been an iced coffee freakazoid for years and years.
---