Christmas ideas
Get flash to fully experience Pearltrees
I posted some pictures of peacock feather earrings I made a while back. I thought I would do a tutorial for how to make them so if any of you are up for a fun summer jewelry project.
20.6K Flares Facebook 15 Google+ 0 Pin It Share 699 700 StumbleUpon 19.8K Twitter 5 20.6K Flares × Decoupage is so fun and can do amazing things!
The inspiration for this week's project comes from the Japanese stacking octagonal box kit shown above. We previously used a similar technique to demonstrate a business card box with traditional elegance.
Summer time really gets my travel bug a-jumpin! I am guilty myself, but so many of us long to travel abroad yet don't take advantage of our very own American continent! This July, my husband Adam and I are hitting the road for a sweet heart's road trip to explore some of the USA's beautiful Southern states.
Compare to Pottery Barn Teen's fabulous but expensive Style Tiles Whenever I speak to my dad on the phone, he always asks, "Miss me?"
At some point near the middle of March, I always decide that I'm "done" with winter. The sweaters and jackets get pushed to the back of the closet, the flip flops come out, and I inevitably freeze my butt off for several weeks until the weather catches up with my warm-weather state of mind. Likewise, my cravings for fresh herbs and veggies are always a little ahead of the season.
Make your own bird wall art with printed bird templates and a textual collage for the background. This wall art craft project shows you how to create wall decor with the look of pricier designer pieces. Materials: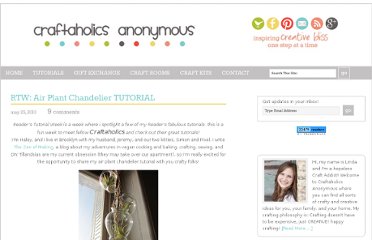 I'm Haley, and I live in Brooklyn with my husband, Jeremy, and our two kitties, Simon and Pixel.
Emily is here to show us how to make one of her Straightener Cozies. This is a great gift idea!! Hi!