SEO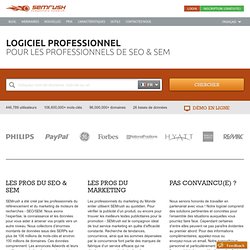 service de recherche de mots-clés dans les référencements organiques Google et AdWords. Etude de la concurrence des sites internet et noms de domaine.
SEMrush a été créé par les professionnels du référencement et du marketing de moteurs de recherches - SEO/SEM. Nous avons l'expertise, la connaissance et les données pour vous aider à amener vos projets vers un autre niveau. Nous collectons d'énormes montants de données issus des SERPs sur plus de 106 millions de mots-clés et 71 millions de domaines. Ces données comprennent: Les annonces Adwords et leurs positionnements, les classements organiques des domaines et leurs URLs d'atterrissage, les volumes de recherche, le CPC, la concurrence, le nombre de résultats, et bien plus encore.
NOTE: We have no plan to enhance Google Sitemap Generator in a short term, and we encourage the community to contribute to this project. Sitemaps are an easy way for webmasters to inform search engines about pages on their sites that are available for crawling. By creating and submitting Sitemaps to search engines, you are more likely to get better freshness and coverage in search engines. Google Sitemap Generator is a tool installed on your web server to generate the Sitemaps automatically. Unlike many other third party Sitemap generation tools, Google Sitemap Generator takes a different approach: it will monitor your web server traffic, and detect updates to your website automatically.
sitemapgenerator - A tool to help webmaster generate Sitemaps for search engines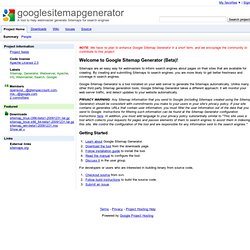 Backlink History - Majestic SEO
KGen : Outil référencement d'analyse des mots-clés
Keywords are what people search for on Google. Your ad appears beside relevant search results. You create your ads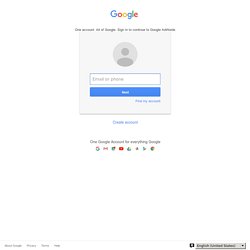 Please bookmark this page on Delicious for your future reference. Set up your free SEO Book account, and you will get this tool + 2 other SEO tools valued at over $300 for free. Already have an account? Log in and your installation link will appear in the place of this message. Why do Over 500,000 Webmasters Use Rank Checker?