Urbantactics
Le City Break, ou les escapades en ville. Tactical urbanism. Urbanismo Emergente o "Tactical Urbanism" « La Ciudad Viva-Mozilla Firefox. Mercado.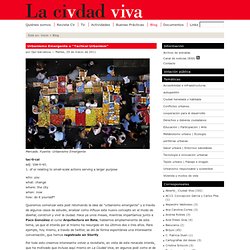 Fuente: Urbanismo Emergente tac·ti·cal adj: \tak-ti-kl\ 1. of or relating to small-scale actions serving a larger purpose who: you what: change where: the city when: now how: do it yourself* Queremos comenzar este post retomando la idea de "urbanismo emergente" y a través de algunos casos de estudio, analizar como influye este nuevo concepto en el modo de diseñar, construir y vivir la ciudad. Hace ya unos meses, mientras impartíamos junto a Paco González el curso Arquitectura en Beta, hablamos ampliamenente de este tema, ya que el interés por el mismo ha resurgido en los últimos dos o tres años. Pattern Cities » Archive » Tactical Urbanism-Mozilla Firefox. Tactical Urbanism Volume 1 Improving the livability of our towns and cities commonly starts at the street, block, or building scale.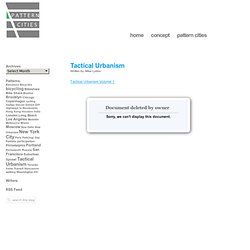 While larger scale efforts do have their place, incremental, small-scale improvements are increasingly seen as a way to stage more substantial investments. Welcome.
Habitat Coopératif
Rhyzom. [disturb] 11-03-2014 | Bozar Architecture - Pezo Von Ellrichshausen Palais des Beaux-Arts de Bruxelles.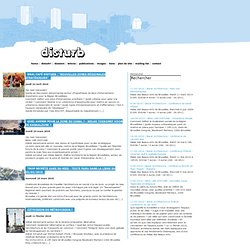 Mardi 11 mars 2014 à 20h. Entrée 8 euros / 5 euros (réd. -26 65+). 9-06-2010 | Bozar Architecture - Conférence de David Adjaye Palais des Beaux-Arts de Bruxelles. Urban tactics. R-URBAN - participative strategy for development, practices and networks of local resilience R-URBAN is a strategy of urban resilience in European cities involving the creation of a network of locally closed ecological cycles linking a series of fields of urban activities (i.e., economy, habitat, mobility, urban agriculture, culture) and using land reversibly. r-urban.net Flows, networks and cycles of production - consumption are formed across these fields, closing chains of need and supply as locally as possible, but also in as many and as diversified ways as possible.
To overcome the current crisis, we must try, as A.Gorz states 'to produce what we consume and consume what we produce'. R-URBAN interprets this chain of production - consumption broadly, well beyond the material aspect, including the cultural, cognitive and affective dimensions.
---