Hot/dry/wet
Villes flottantes - Agence européenne pour l'environnement (AEE) Almost a third of the Netherlands lies below sea level, and over the centuries the country has developed a highly efficient flood-defence system.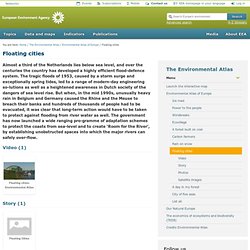 The tragic floods of 1953, caused by a storm surge and exceptionally spring tides, led to a range of modern-day engineering so-lutions as well as a heightened awareness in Dutch society of the dangers of sea level rise. But when, in the mid 1990s, unusually heavy rain in Belgium and Germany caused the Rhine and the Meuse to breach their banks and hundreds of thousands of people had to be evacuated, it was clear that long-term action would have to be taken to protect against flooding from river water as well. The government has now launched a wide ranging pro-gramme of adaptation schemes to protect the coasts from sea-level and to create 'Room for the River', by establishing unobstructed spaces into which the major rivers can safely over-flow. Indices & Data. Wetland Park de Hong Kong - Liens Web - Liens Web.
C.I.Eau junior. Magazine H2o | H2o Magazine | Accueil. Wildfowl & Wetlands Trust (WWT) Station d'épuration urbaine. Station de traitement des eaux usées des usagers (particuliers et industriels) raccordés au réseau d'assainissement et des eaux pluviales (dans le cas de réseaux non-séparatifs).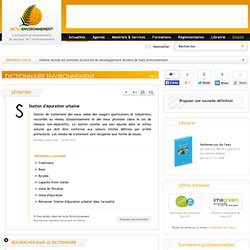 La station rejette une eau épurée dans le milieu naturel qui doit être conforme aux valeurs limites définies par arrêté préfectoral. Les résidus de traitement sont récupérés sour forme de boues.Dernière mise à jour : 14/05/2012 Proposer une correction © Tous droits réservés Actu-Environnement Reproduction interdite sauf accord de l'Éditeur. Page d'accueil - Ministère australien de la durabilité, l'environnement, l'eau, la population et des Collectivités (SEWPaC) Phytoremédiation des sols contaminés. Les plantes Dépolluantes - Le site de l'HerBiVoRe.
Dry. Water City.
---