Random
Dieses Video ist derzeit nicht verfügbar. Das Video ist auf diesem Gerät nicht verfügbar. Der Videoplayer ist zu klein. Wiedergabe Anhalten Nochmal
Como fazer uma Encadernação de Capa Dura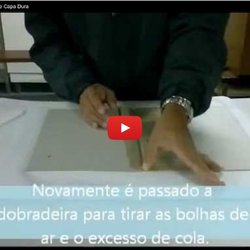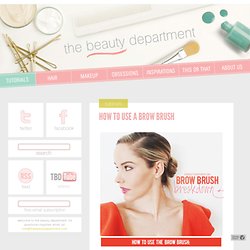 We get a lot of emails asking how to use brushes correctly so I hope this helps you out a little! A brow brush is designed to be stiff and angled for a reason. And we use the slanted edge to shade and the tip of the edge to outline. Put those components together and a brow brush is quite frankly a thing of perfection! Here's how to use it properly: READ MORE…
I'm sure you've come across Fred & Friend products before at your local indie store and might not have even known it. Last weekend I was cruising around town and stopped at an indie store only to find one whole corner of the place dedicated to Fred & Friend products. It was heavenly. I stood there for probably more than a half hour laughing and checking out all their cool stuff. A lot of creativity goes into the making of these products, and I think part of that cleverness is shown in the name of the product and the slogan. It's really a hoot flipping through their catalog and I often find myself posing the question: "How in heavens name did they think of that?".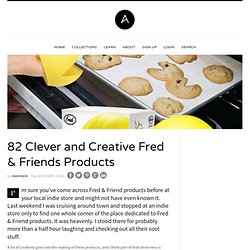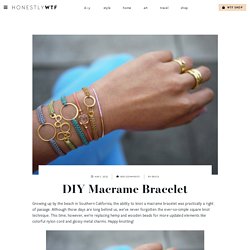 Growing up by the beach in Southern California, the ability to knot a macrame bracelet was practically a right of passage. Although those days are long behind us, we've never forgotten the ever-so-simple square knot technique. This time, however, we're replacing hemp and wooden beads for more updated elements like colorful nylon cord and glossy metal charms.
Thursday, June 14, 2012 4:30 am, Posted by Chris Groves | Internet 20 Awesome Do It Yourself Projects Topics: At Home Project Ideas , Creative DIY Home Projects , Do It Yourself Projects for 2012 , Fun How To Projects , What to Do with Extra Stuff Are you bored and have a bunch of extra little items hanging around here and there? Well we were in the same boat so we decided to round up 20 different awesome at home projects you can do. Anything from soda pop cap lids to spoons and more.