Desserts
Cute & Easy Mini Santa Hat Brownies | Picture the Recipe - StumbleUpon. *Post Edit:- I had forgotten to mention the step where the sugar goes in the recipe image below….as pointed out by several people in the comments.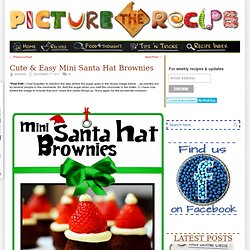 So, Add the sugar when you melt the chocolate in the butter. =) I have now edited the image to include that and I hope this clears things up. Sorry again for the accidental omission. Makes: 48 mini muffin sized brownies or 24 regular muffin sized brownies. Fudge Brownie Recipe Ingredients: 250gms (2 1/2 Sticks) Butter 250gms (approx. 2 cups) Chocolate Chips or chunks 12 oz (1 1/2 Cup) fine Sugar 1 tsp Vanilla extract 2 Cups of all purpose Flour 2 tsps Baking Powder 6 large Eggs 1 Cup of chopped Walnuts or Almonds (optional) Method: 1. Three Safe-to-Eat Cookie Doughs: Chocolate Chip, Sugar, and Cake Batter!
I'm siiiiick.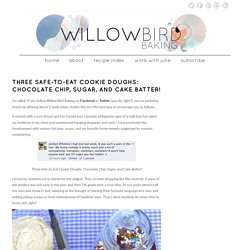 If you follow Willow Bird Baking on Facebook or Twitter (you do, right?) , you've probably heard me whining about it lately (okay, maybe this isn't the best way to encourage you to follow). Nutella Mug Cake. I have been experimenting with different mug cakes every since I heard about them about a year ago.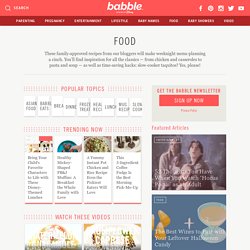 None of them have been winners. They were either too chewy, too dry, or not sweet enough. Well, I continued experimenting, and thought why not add some decadent Nutella into the mix. I modified the classic mug cake recipe, added Nutella, and a little more milk and oil than I had been using before. The results were beyond amazing. Icings Recipes at Bake Decorate Celebrate! 10 Tasty Mug Cakes That You Can Make in Just Minutes. By bellalimento | I'm sure you've heard of cakes that you make in a microwave in MINUTES.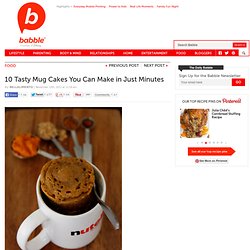 I have to admit the first time I saw a recipe for one I was skeptical. I mean how can you make a cake in just a few minutes in the microwave? So I set out to test the theory. Penniesonaplatter. Moist Chocolate Cake. There's something to be said for a cake that you can whip up at 9 o'clock on a Friday night, after a serious doozy of a week, when you need some baking therapy that requires little to no brain power.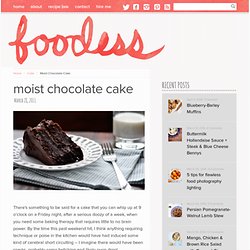 By the time this past weekend hit, I think anything requiring technique or poise in the kitchen would have had induced some kind of cerebral short circuiting – I imagine there would have been sparks, probably some twitching and likely even drool. Okay fine, so there might have been drool anyway. Actually, when the cake emerged, there was probably drooling and clapping. I tell you that because I trust you won't judge me.
---