Abg3
Abel Galvez
Família i Escola
CYBERBULLYING. 3ESOBLOGS. TECNOADDICCIONES. Mobile Learning. EINES TIC. SERIOUS GAMES. NIK PEACHEY. Nikpeachey. ISSUU BOOKS. ENGLISH LANGUAGE TEACHING. DIGITAL BOOKS. MY BLOGS. SCHOOL REVOLUTION.
INSPIRATIONAL LIVES
Maranatha Colours Series (20 CD de música Instrumental) I Love You Lord - Classical Guitar Praise (Colours Series) - Billy and Gilly Jesus, Draw Me Me Close (Colours Series) - Phil Classical Praise Piano - (Colours Series) - Tom.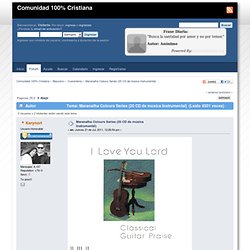 ARTICLES. ASSESSMENT. US&UK. CINEMA & ELT. TITANIC 100TH CENTENARY.
---
abg3 Jan 10 2012

Thanks, I'm having a great time with my pearls.
---