Star Wars
Our hosts over at Rebelforce Radio bring us another episode and this time they talk to Michael Price about the lighter side of Star Wars. There is also some juicy news regarding the expansion of Star Wars at Disney Parks. Here's the summary and link:
New RebelForce Radio Episode Talk To "The Simpsons" Michael Price. ~ The Bearded Trio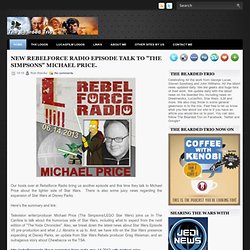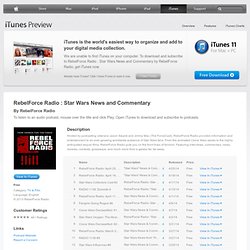 Description Hosted by podcasting veterans Jason Swank and Jimmy Mac (The ForceCast), RebelForce Radio provides information and entertainment to an ever-growing worldwide audience of Star Wars fans. From the animated Clone Wars series to the highly anticipated sequel films, RebelForce Radio puts you on the front lines of fandom. Featuring interviews, commentary, news, reviews, contests, giveaways, and much more from a galaxy far, far away. Customer Reviews
Podcasts - RebelForce Radio : Star Wars News and Commentary by RebelForce Radio
Journal of the Whills • whybecosplay: Star Wars Celebration VI #starwars...
The Abaddon Holocron