Tonga, NZ, HK, KL
**Tonga to Samoa** (flight?) - Lonely Planet travel forum.
HK
2011 Rugby World Cup. The 2011 Rugby World Cup was the seventh Rugby World Cup, a quadrennial international rugby union competition inaugurated in 1987.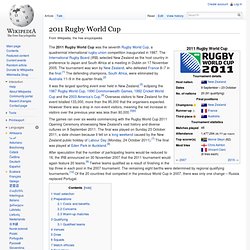 The International Rugby Board (IRB) selected New Zealand as the host country in preference to Japan and South Africa at a meeting in Dublin on 17 November 2005. The tournament was won by New Zealand, who defeated France 8–7 in the final.[1] The defending champions, South Africa, were eliminated by Australia 11–9 in the quarter-finals.[2] It was the largest sporting event ever held in New Zealand,[3] eclipsing the 1987 Rugby World Cup, 1990 Commonwealth Games, 1992 Cricket World Cup and the 2003 America's Cup.[4] Overseas visitors to New Zealand for the event totalled 133,000, more than the 95,000 that the organisers expected. However there was a drop in non-event visitors, meaning the net increase in visitors over the previous year was less than 80,000.[5][6]
Kuala Lumpur. Kuala Lumpur (Malaysian pronunciation: [ˈkwalə ˈlumpʊr]), often abbreviated as K.L.,[7] is the federal capital and most populous city in Malaysia.[8] The city covers an area of 243 km2 (94 sq mi) and has an estimated population of 1.6 million as of 2010.[8] Greater Kuala Lumpur, also known as the Klang Valley, is an urban agglomeration of 6.9 million as of 2010.[4][5] It is among the fastest growing metropolitan regions in the country, in terms of population and economy.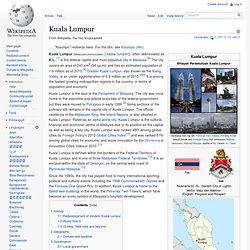 Kuala Lumpur is the seat of the Parliament of Malaysia. The city was once home to the executive and judicial branches of the federal government, but they were moved to Putrajaya in early 1999.[9] Some sections of the judiciary still remains in the capital city of Kuala Lumpur. The official residence of the Malaysian King, the Istana Negara, is also situated in Kuala Lumpur. New Zealand. New Zealand (/njuːˈziːlənd/; Māori: Aotearoa [aɔˈtɛaɾɔa]) is an island country in the southwestern Pacific Ocean.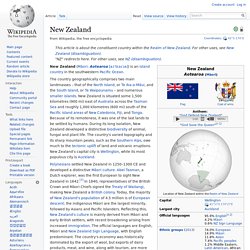 The country geographically comprises two main landmasses – that of the North Island, or Te Ika-a-Māui, and the South Island, or Te Waipounamu – and numerous smaller islands. New Zealand is situated some 1,500 kilometres (900 mi) east of Australia across the Tasman Sea and roughly 1,000 kilometres (600 mi) south of the Pacific island areas of New Caledonia, Fiji, and Tonga.
Because of its remoteness, it was one of the last lands to be settled by humans. Hong Kong. Coordinates: Hong Kong (香港, see Name section), alternatively known by its initials H.K., is a Special Administrative Region of the People's Republic of China situated on China's south coast and enclosed by the Pearl River Delta and South China Sea.[8] The city is known for its expansive skyline and deep natural harbour.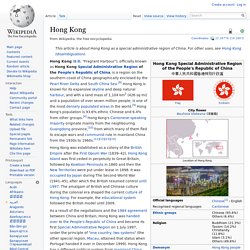 With a land mass of 1,104 km2 (426 sq mi) and a population of over seven million people, Hong Kong is one of the most densely populated areas in the world.[9] Hong Kong's population is 93.6% ethnic Chinese and 6.4% from other groups.[4] Hong Kong's Cantonese-speaking majority originate mainly from the neighbouring Canton (now Guangdong) province,[10] from which many of them fled to escape wars and Communist rule in China from the 1930s to the 1960s.[11][12][13][14] Hong Kong became a colony of the British Empire after the First Opium War (1839–42).
Tonga. Tonga ([ˈtoŋa]; Tongan: Puleʻanga Fakatuʻi ʻo Tonga), officially the Kingdom of Tonga, is a Polynesian sovereign state and archipelago comprising 176 islands with a surface area of about 750 square kilometres (290 sq mi) scattered over 700,000 square kilometres (270,000 sq mi) of the southern Pacific Ocean, of which 52 are inhabited by its 103,000 people.[4] Tonga stretches over about 800 kilometres (500 mi) in a north-south line about a third of the distance from New Zealand to Hawaii.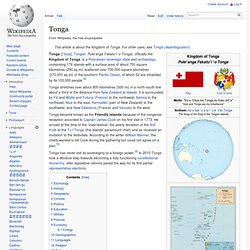 It is surrounded by Fiji and Wallis and Futuna (France) to the northwest, Samoa to the northeast, Niue to the east, Kermadec (part of New Zealand) to the southwest, and New Caledonia (France) and Vanuatu to the west. Tonga has never lost its sovereignty to a foreign power.[6] In 2010 Tonga took a decisive step towards becoming a fully functioning constitutional monarchy, after legislative reforms paved the way for its first partial representative elections. Etymology[edit] History[edit] Queenstown - Wellington - Auckland > Driving Routes. Day 10 The prosperous city of Tauranga sprawls along the edge of an attractive harbour.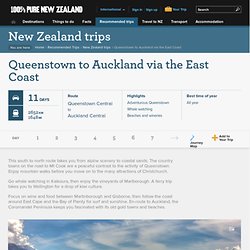 There's a well developed café culture and boat charters are available to take you big game fishing, snorkelling or dolphin watching. Nearby Mt Maunganui is a destination for surfing and beach walking. The journey to Whangamata will take you through orchard country. Roadside stalls are an opportunity to buy seasonal fruit, such as oranges, kiwifruit and avocados. The management and staff strive to give you a real South Pacific holiday in Tonga. The Pass System. New Quotes / Reservations - Budget Rent a Car.
Go Kiwi Directory - Digital Edition. We have detected you are using OS X 10.7 or newer.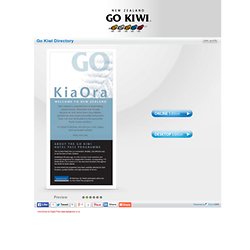 If not, please ignore this. To open this Desktop Edition on Apple Lion OS, and above, you will need to temporarily bypass Gatekeeper.
---