Animals
Get flash to fully experience Pearltrees
A handsome picture of legendary American labor leader Cesar Chavez replaced the second "o" in the Google logo on Sunday, a tip of the hat that Google users thought amounted to ignoring Easter. The users were not happy and took their rage to Twitter, where tweeters slipped into all-caps and threatened to switch to Bing. People disapprove of Google's often whimsical doodles all the time, but this weekend, the Cesar Chavez tribute, pegged to would have been the activist's 86th birthday, appears to have struck a nerves. ... <p style="text-align:right;color:#A8A8A8"></p>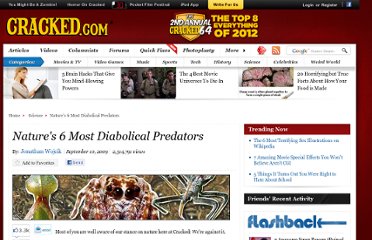 Most of you are well aware of our stance on nature here at Cracked: We're against it. It's scary, it's weird and it keeps trying to kill us. Mother Nature is the world's greatest supervillain, and her cruelty is only outweighed by her deviousness. Sure, none of the diabolical predators below will hurt you personally--that we know of--but just imagine what some of the poor victims go through when these crazy-ass organic ninjas strike. Imagine that you're a moth in New Zealand (please, as if you weren't already).
People who doubt evolution tend to have one main argument: "If evolution is true, why do we still see monkeys running around today, all chimp-like? Where are all the monkey-men I was promised ?" Well, if you or someone you know refuses to believe that organisms change over time without proof on a monkey-man level, here are a buttload of animals in the middle of getting their evolve on. Well, seven anyway. Elephants are Evolving to Lose Their Tusks (and Avoid Poachers)
BEEBE, Ark. — Environmental service workers finished picking up the carcasses on Sunday of about 2,000 red-winged blackbirds that fell dead from the sky in a central Arkansas town. Mike Robertson, the mayor in Beebe, told The Associated Press the last dead bird was removed about 11 a.m. Sunday in the town about 40 miles northeast of Little Rock. He said 12 to 15 workers, hired by the city to do the cleanup, wore environmental-protection suits for the task.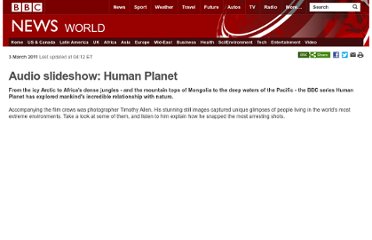 3 March 2011 Last updated at 04:12 ET From the icy Arctic to Africa's dense jungles - and the mountain tops of Mongolia to the deep waters of the Pacific - the BBC series Human Planet has explored mankind's incredible relationship with nature. Accompanying the film crews was photographer Timothy Allen. His stunning still images captured unique glimpses of people living in the world's most extreme environments.