Du vigilant
Passé et présent des biens communs
Ouverture et enclosure Dans son film documentaire, Les Glaneurs et la glaneuse (2000), Agnès Varda revisite la pratique traditionnelle du glanage dans la France d'aujourd'hui. Son voyage à travers le pays à la recherche de déchets et d'objets de rebuts variés commence justement par la terre et par les tonnes de pommes de terre trop peu uniformes pour la vente en supermarché. En fouillant le tas de légumes imparfaits, elle trouve rapidement la première des pommes de terre en forme de cœur qui deviendra le symbole de son film et de sa suite, Les glaneurs et la glaneuse : deux ans après en 2002.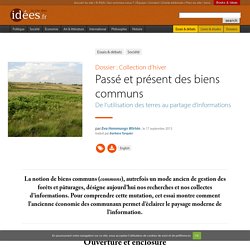 Localisation du bateau : ALIOTH
Whatever you like doing, do it!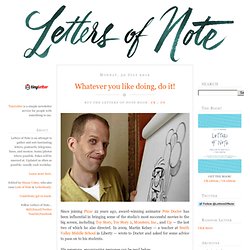 Since joining Pixar 22 years ago, award-winning animator Pete Docter has been influential in bringing some of the studio's most successful movies to the big screen, including Toy Story , Toy Story 2 , Monsters, Inc. , and Up — the last two of which he also directed. In 2009, Martin Kelsey — a teacher at South Valley Middle School in Liberty — wrote to Docter and asked for some advice to pass on to his students. His generous, encouraging response can be read below.
YouTube - 21 mai 1981 - Investiture de François Mitterrand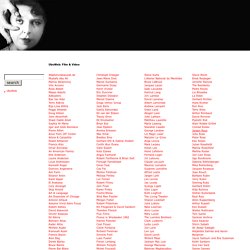 The following films are presented for educational and non-commercial use only. All copyrights belong to the artists. About UbuWeb Film & Video UbuWeb is pleased to present hundreds of avant-garde films & videos for your viewing pleasure. However, it is important to us that you realize that what you will see is in no way comparable to the experience of seeing these gems as they were intended to be seen: in a dark room, on a large screen, with a good sound system and, most importantly, with a roomful of warm, like-minded bodies. However, we realize that the real thing isn't very easy to get to.
Peter Travers: 'The Social Network' and 12 More Movies That Defined a Generation | Rolling Stone Music | Photos