April fools
ShopSavvy - Home | iPhone and Android Barcode Scanning & Shopping Tool. Super angels. Angel investors Paul Graham and Dave McClure announced Friday the launch of 25 Incubators, the first-ever intensive program dedicated entirely to teaching ex-entrepreneurs and investors the art of training the next wave of startups.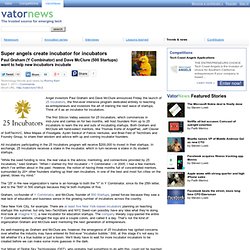 Think of it as an incubator for incubators. The first Silicon Valley session for 25 Incubators, which commences in mid-June and carries on for two months, will host founders from up to 25 incubators to learn the ins and outs of incubating startups. Both Graham and McClure will hand-select mentors, like Thomas Korte of AngelPad, Jeff Clavier of SoftTechVC, Mike Mapes of Floodgate, Aydin Senkut of Felicis Ventures, and Brad Feld of TechStars and Foundry Group, to share their wisdom and advice with up and coming incubator founders. All incubators participating in the 25 Incubators program will receive $200,000 to invest in their startups. In exchange, 25 Incubators receives a stake in the incubator, which in turn receives a stake in its student startups. Foo fighters. Spaghetti tree hoax. Photograph of a woman harvesting spaghetti in the BBC programme Broadcast[edit] Panorama cameraman Charles de Jaeger dreamed up the story after remembering how teachers at his school in Austria teased his classmates for being so stupid that if they were told that spaghetti grew on trees, they would believe it.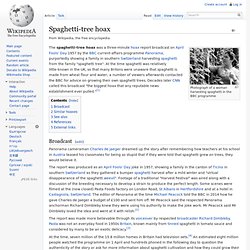 The report was made more believable through its voiceover by respected broadcaster Richard Dimbleby. Pasta was not an everyday food in 1950s Britain, known mainly from tinned spaghetti in tomato sauce and considered by many to be an exotic delicacy.[3] At the time, seven million of the 15.8 million homes in Britain had television sets.[4] An estimated eight million people watched the programme on 1 April and hundreds phoned in the following day to question the authenticity of the story or ask for more information about spaghetti cultivation and how they could grow their own spaghetti trees.
Virgle: The Adventure. For thousands of years, the human race has spread out across the Earth, scaling mountains and plying the oceans, planting crops and building highways, raising skyscrapers and atmospheric CO2 levels, and observing, with tremendous and unflagging enthusiasm, the Biblical injunction to be fruitful and multiply across our world's every last nook, cranny and subdivision.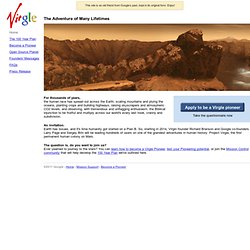 An invitation. Earth has issues, and it's time humanity got started on a Plan B. Facebook To Launch 'Relationships' At f8, Teams With Zynga To Spur Romance Through Gaming. Later this month Facebook is holding its f8 conference, where it will be launching a slew of new features (we've already broken the news on quite a few of them).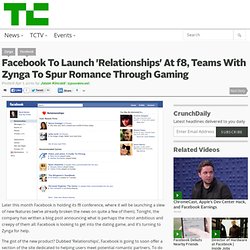 Tonight, the company has written a blog post announcing what is perhaps the most ambitious and creepy of them all: Facebook is looking to get into the dating game, and it's turning to Zynga for help. The gist of the new product? Toshiba Spectacle: The World's First and Only 3D Monocle | us.toshiba.com. Enhance your Entertainment Ready to take movies and games to the next level?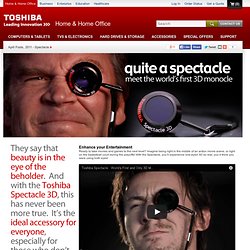 Imagine being right in the middle of an action movie scene, or right on the basketball court during the playoffs! With the Spectacle, you'll experience one-eyed 3D so real, you'd think you were using both eyes! Groundbreaking Technology and Design. Software Testing | uTest. Joel on Software. Spotify Announces US Launch; Closing European Service To Fund It. I've been more skeptical than most about Spotify's promise to launch in the US, but it looks like Europe's favourite music service is ready to make good on all of its hype.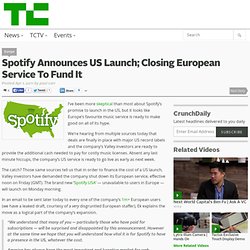 We're hearing from multiple sources today that deals are finally in place with major US record labels and the company's Valley investors are ready to provide the additional cash needed to pay for costly music licenses. Absent any last minute hiccups, the company's US service is ready to go live as early as next week.
---