Wordprocessor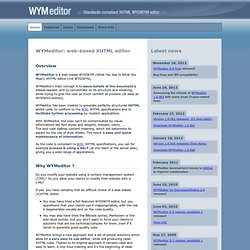 Overview WYMeditor is a web-based WYSIWYM (What You See Is What You Mean) XHTML editor (not WYSIWYG). WYMeditor's main concept is to leave details of the document's visual layout, and to concentrate on its structure and meaning, while trying to give the user as much comfort as possible (at least as WYSIWYG editors). WYMeditor has been created to generate perfectly structured XHTML strict code, to conform to the W3C XHTML specifications and to facilitate further processing by modern applications. With WYMeditor, the code can't be contaminated by visual informations like font styles and weights, borders, colors, ...The end-user defines content meaning, which will determine its aspect by the use of style sheets.
Rich-Text Editing in Mozilla:Class xbDesignMode - MDC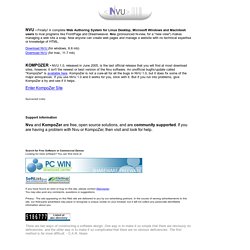 Support Information Nvu and KompoZer are free, open source solutions, and are community supported. If you are having a problem with Nvu or KompoZer, then visit and look for help at the Nvu Support Site Search for Free Software or Commercial DemosLooking for more software? You can find more at If you have found an error or bug on this site, please contact Webmaster You may also post any comments, questions or suggestions.
Dojo Version: Getting Started Dojo Start How do I start learning Dojo?
Rich Text Editing With Dojo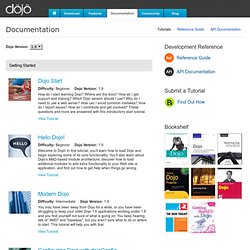 The Man in Blue > widgEditor: A simple, standards-compliant WYSIWYG HTML editor
27 January 2005 » widgEditor HTML editor « There's quite a few HTML-based HTML editors out there, but they all lack something. Most of them are fairly code obtrusive – requiring you to carve out a hefty chunk of HTML/JavaScript in order to get them to display – or the outputted code is hardly standards compliant. HTMLArea is probably the most well rounded solution, but it's far too complex for most of my applications – its code isn't extremely extensible, the interface isn't customisable, and inherent with its abundance of editing freedom is the risk that an unwise author will produce a horrid looking mash of <font> tags. Kevin Roth's Rich Text Editor brings in a bit more simplicity, but the source code is again pretty messy, and the ease with which it is applied to a page isn't great.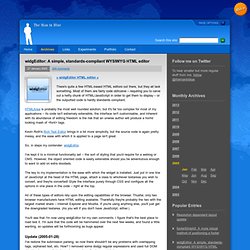 Bad Monkey's blog
The Flexible Online Writing Tool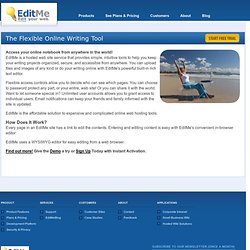 Access your online notebook from anywhere in the world! EditMe is a hosted web site service that provides simple, intuitive tools to help you keep your writing projects organized, secure, and accessible from anywhere. You can upload files and images of any kind or do your writing online with EditMe's powerful built-in rich text editor. Flexible access controls allow you to decide who can see which pages.