Micro compac home
Home Delivery Walkthrough: micro compact home. Micro compact home | welcome. The Micro-Compact Home: m-ch Set to Make Its UK Debut. The micro-compact home (m-ch), pioneered by Horden Cherry Lee Architects, is to make its UK debut next month.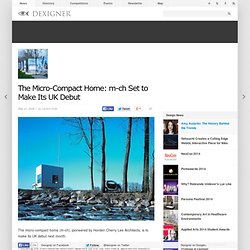 Following the international attention sparked by the O2 Germany sponsored student village of micro-compact homes in Munich, Germany the prototype dwelling will be showcased at this year's Grand Designs Live exhibition, at ExCel in Docklands, 2-4 June, before arriving in Berkley Square, central London. 6-10 June 2006. At Grand Designs Live, an exhibition based on Channel 4's hugely popular TV series, m-ch will feature on its own site alongside other world-leading housing concepts the German HUF HAUS, the British PAD concept home and Container City in "The Grand Village" to be built in Royal Victoria Square immediately in front of ExCel's exhibition halls in London's Royal Docks.
Micro compact home m-ch. Micro-casas desde 6 m2: una protesta contra las McMansion - news. Por un instante, fijémonos en Estados Unidos.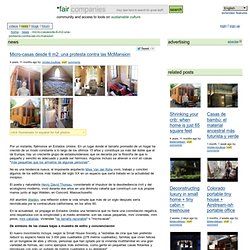 En un lugar donde el tamaño promedio de un hogar ha crecido de un modo constante a lo largo de los últimos 15 años y constituye ya más del doble que el de Europa, hay un creciente grupo de estadounidenses que se decanta por la filosofía de que lo pequeño y sencillo es adecuado y puede ser hermoso. Algunos incluso se atreven a vivir en casas "más pequeñas que los armarios de algunas personas". No es una tendencia nueva: el imponente arquitecto Mies Van der Rohe vivió, trabajó y concibió algunos de los edificios más loados del siglo XX en un espacio que sería tratado en la actualidad de minipiso. Home Delivery: micro compact home, May 2, 2008.
HQ) Micro Houses by Richard Horden from Micro Compact Home ltd. 1701.
---