Recipes / food (2)
Pumpkin Semifreddo. For crust: 1.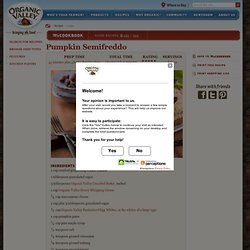 Lightly spray a 9x5x3-inch loaf pan with nonstick spray. Line pan with plastic wrap. Macaroni and Cheese | Vega. Chocolate Pots. Curried Rice With Shrimp. Balsamic-Glazed Pork With Lentils. Roast Beef With Slow-Cooked Tomatoes and Garlic. Creamy Spinach Enchiladas. Cooking with Quinoa: 15 Recipes. A good gluten-free source of protein, iron, and fiber, quinoa is a quick and flavorful way to get in a serving of whole grains.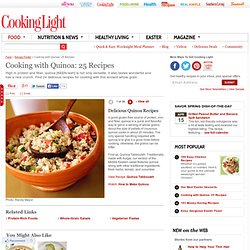 About the size of pellets of couscous, quinoa cooks in about 20 minutes. The only special handling required with quinoa is to give it a good rinse before cooking; otherwise, the grains can be bitter. Shrimp and Sausage With Polenta. Lamb Kebabs With Lima Bean Salad. Black Bean and Sweet Potato Enchiladas. Kale and White Bean Soup Recipe. Sausage and Chard Saute With Polenta. Shrimp Potpie With Fennel. Comfort Food for Your Brain. By Mark Hyman, MD (@markhymanmd) / November 2009 I call myself the "accidental psychiatrist."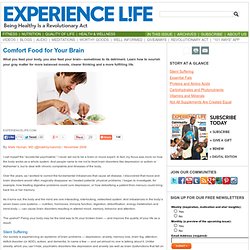 I never set out to be a brain or mood expert. In fact, my focus was more on how the body works as a whole system. And people came to me not to treat brain disorders like depression or autism or Alzheimer's, but to deal with chronic complaints and illnesses of the body. Not Milk? A Guide to Non-Dairy Milks | Mojo Foods. Holy cow!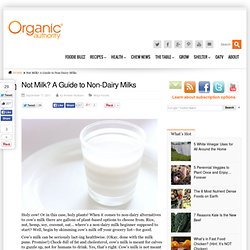 Or in this case, holy plants! When it comes to non-dairy alternatives to cow's milk there are gallons of plant-based options to choose from. Moroccan Chicken With Kale and Roasted Squash. Steak and Potatoes With Spinach Salad. Scene-Stealing Thanksgiving Side Dishes. Gluten Free Holiday. Hosting a holiday dinner is like a culinary track and field event—a marathon with a bunch of high hurdles thrown in near the finish line.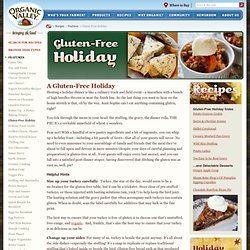 So the last thing you want to hear on the home stretch is that, oh by the way, Aunt Sophie can't eat anything containing gluten, right? You tick through the menu in your head: the stuffing, the gravy, the dinner rolls, THE PIE! It's a veritable minefield of wheat-y wonders. Fear not! Our Best Sweet Potato Casseroles. Curried Broccoli Couscous. Grilled Pork and Broccoli Rabe With Couscous. Shrimp and Sausage With Saffron Rice. Grilled Garlic Chicken. Mexican Grilled Corn With Cilantro. Rosemary Pecans. Apple-Pear Galette. Stir-Fried Shrimp and Broccoli. Slow-Cooker Beef Stew. Pumpkin Cream Sandwiches. Brown Sugar Rosemary Walnuts Recipe. My journey to White Sulphur Springs, West Virginia started with crickets chirping from my cellphone alarm at 4:50 a.m.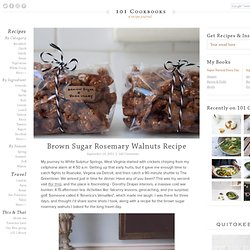 Getting up that early hurts, but it gave me enough time to catch flights to Roanoke, Virginia via Detroit, and then catch a 90-minute shuttle to The Greenbrier. We arrived just in time for dinner. Have any of you been? This was my second visit (for this), and the place is fascinating - Dorothy Draper interiors, a massive cold war bunker, 4:15 afternoon tea. Activities like: falconry lessons, geocaching, and (no surprise) golf. Lentil Fritter Pitas With Red Cabbage Slaw. Wild Rice and Mushroom Pilaf. Eat Your Medicine: Food as Pharmacology. What you put at the end of your fork is more powerful medicine than anything you will find at the bottom of a pill bottle.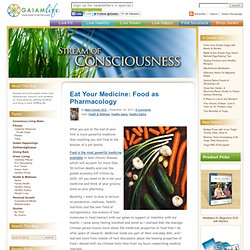 Food is the most powerful medicine available to heal chronic disease, which will account for more than 50 million deaths and cost the global economy $47 trillion by 2030. All you need to do is eat your medicine and think of your grocery store as your pharmacy.
---