Research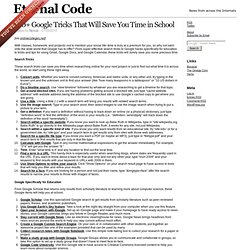 [via onlinecolleges.net] With classes, homework, and projects–not to mention your social life–time is truly at a premium for you, so why not latch onto the wide world that Google has to offer? From super-effective search tricks to Google hacks specifically for education to tricks and tips for using Gmail, Google Docs, and Google Calendar, these tricks will surely save you some precious time. Search Tricks These search tricks can save you time when researching online for your next project or just to find out what time it is across the world, so start using these right away.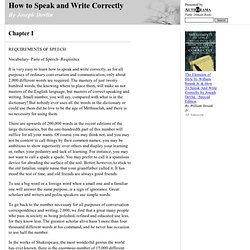 How to Speak and Write Correctly (by Joseph Devlin)
Vocabulary–Parts of Speech–Requisites It is very easy to learn how to speak and write correctly, as for all purposes of ordinary conversation and communication, only about 2,000 different words are required. The mastery of just twenty hundred words, the knowing where to place them, will make us not masters of the English language, but masters of correct speaking and writing. Small number, you will say, compared with what is in the dictionary! But nobody ever uses all the words in the dictionary or could use them did he live to be the age of Methuselah, and there is no necessity for using them.