Lifehacks
Jose Pino's projects & tidbits Interesting things to build, Electronics Projects, Free Science Projects, Crazy Ideas, Household hacks, Readings, Info and more!
Updated: May 8, 2009 Kids Crafts Shaker instrument - filled with dry rice. Patio light covers - covers for white Xmas tree lights for the patio. Firefly model from a bottle Penguin Pals - made from a bottle.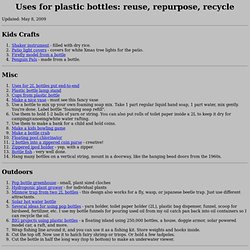 Plastic bottle projects
TipsBase | Share your Tips and Tricks with the World
Tipbin
About • Help TipBin Tips for a greener world
Daytipper: Welcome to Daytipper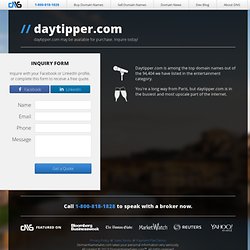 daytipper.com may be available for purchase. Inquire today! Inquiry Form
NOTE The "Productivity Tools" menu supercedes this page. Check it out The Printable CEO™ (PCEO) was born from a desire to focus my time more productively. For me, that means things that make my freelance practice sustainable and fun. The Printable CEO name comes from the idea that a good CEO should focus primarily on those things that move the company forward; since I can't afford to hire my own CEO, being able to print one out seemed like the next best thing!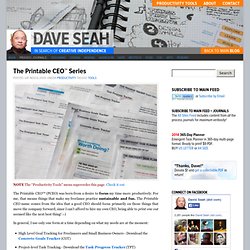 Stain Removal - School of Fibre Science and Technology
Lifehacks
Sprint Waitless
condition yellow
131 Uses for Vinegar
Garden Bugs Animals Cars Tools Health Beauty Laundry Clothes In the Kitchen In the Bathroom Miscellaneous Please take a moment and take our Survey [FREE Graphics][Survey][FREE Printable Stationary and Sig Tags][The Home Store][Recipes] [Once a Month Cooking] [Bathroom] [Christmas] [Crafting]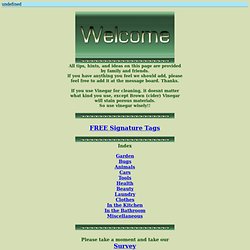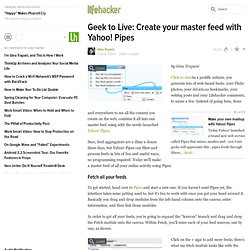 Geek to Live: Create your master feed with Yahoo! Pipes - Lifehacker
SExpand by Gina Trapani Click to viewAs a prolific netizen, you generate lots of web-based feeds: your Flickr photos, your del.icio.us bookmarks, your weblog posts and your Lifehacker comments, to name a few. Instead of going here, there and everywhere to see all the content you create on the web, combine it all into one master feed using with the newly-launched Yahoo!
My PocketMods
Aequus » 1: Polynap MP3 Soundtrack