Lifehacks
Jose Pino's projects & tidbits Interesting things to build, Electronics Projects, Free Science Projects, Crazy Ideas, Household hacks, Readings, Info and more!
Updated: May 8, 2009 Kids Crafts Shaker instrument - filled with dry rice. Patio light covers - covers for white Xmas tree lights for the patio. Firefly model from a bottle Penguin Pals - made from a bottle.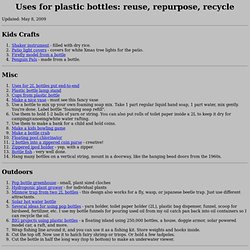 Plastic bottle projects
TipsBase | Share your Tips and Tricks with the World
Tipbin
About • Help TipBin Tips for a greener world
Daytipper: Welcome to Daytipper
BariAmma Ki Batein | BariAmma.Com
NOTE The "Productivity Tools" menu supercedes this page. Check it out The Printable CEO™ (PCEO) was born from a desire to focus my time more productively. For me, that means things that make my freelance practice sustainable and fun. The Printable CEO name comes from the idea that a good CEO should focus primarily on those things that move the company forward; since I can't afford to hire my own CEO, being able to print one out seemed like the next best thing!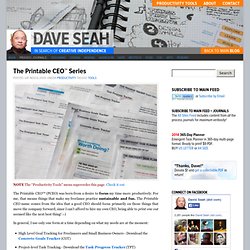 Stain Removal - School of Fibre Science and Technology
Lifehacks
Sprint Waitless
condition yellow
131 Uses for Vinegar
[FREE Graphics] [Survey] [FREE Printable Stationary and Sig Tags] [The Home Store] [Recipes] [Once a Month Cooking] [Bathroom] [Christmas] [Crafting] Grow beautiful azaleas: Occasionally water plants with a mixture of two tablespoons vinegar to one quart water. Azaleas love acidic soil.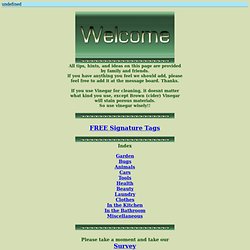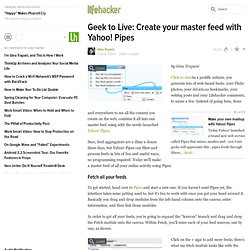 Geek to Live: Create your master feed with Yahoo! Pipes - Lifehacker
by Gina Trapani Click to view As a prolific netizen, you generate lots of web-based feeds: your Flickr photos, your del.icio.us bookmarks, your weblog posts and your Lifehacker comments, to name a few. Instead of going here, there and everywhere to see all the content you create on the web, combine it all into one master feed using with the newly-launched Yahoo! Pipes .
My PocketMods
Aequus » 1: Polynap MP3 Soundtrack