Personal Growth / Improvement
eHow | How to Videos, Articles & More - Trusted Advice for the Curious Life. Nutrition & Exercise Education at SparkPeople. List your goals on 43 Things. To do list, simple, easy, fast, sharable: Ta-da List.
Hello, We launched Ta-da List back in January of 2005 so everyone could have a fast and free to-do list app in their web browser.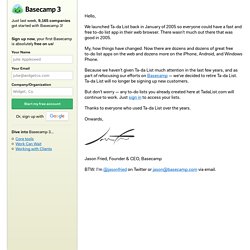 There wasn't much out there that was good in 2005. My, how things have changed. Now there are dozens and dozens of great free to-do list apps on the web and dozens more on the iPhone, Android, and Windows Phone. Because we haven't given Ta-da List much attention in the last few years, and as part of refocusing our efforts on Basecamp — we've decided to retire Ta-da List. Lifehacker, tips and downloads for getting things done. Organised Life. FlyLady.net: Your personal online coach to help you gain control of your house and home.
Organized Home | Clean House, Cut Clutter, Get Organized at Home! Your daily digest on productivity and life improvements - Stepcase Lifehack. 42 Practical Ways To Improve Yourself. Are you someone who likes to grow?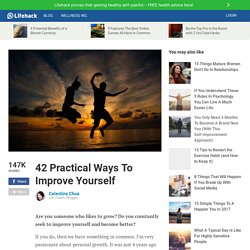 Do you constantly seek to improve yourself and become better? If you do, then we have something in common. The Personal Excellence Blog. Notes on How to Study Effectively. Personal Development ~ PluginID. Self-Education Resource List. The internet is an invaluable resource to self-educated learners.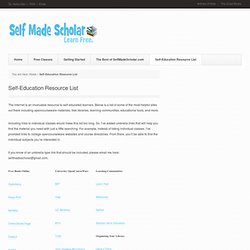 Below is a list of some of the most helpful sites out there including opencourseware materials, free libraries, learning communities, educational tools, and more. Including links to individual classes would make this list too long. So, I've added umbrella links that will help you find the material you need with just a little searching. For example, instead of listing individual classes, I've provided links to college opencourseware websites and course directories. From there, you'll be able to find the individual subjects you're interested in.
---