Style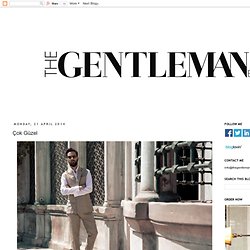 I'm back in London in time for the next round of London Collections: Men . On the first day, Gieves & Hawkes showcased their AW14 collection inspired by the relationship the house has between civilian and military dressing. Gieves & Hawkes is for a man interested in the rules and references of tradition but who desires to present these in an elegant, contemporary fashion. "Outerwear and great coats form the foundation of this season's rich and textural aesthetic.
The Gentleman Blogger
Polar are dropping their new album Shadowed By Vultures next month and it's a big-ass slab of metalcore that's going to terrorise your speakers. And to get your ears ready they've released a new video for Mountain Throne for you to watch right now. Go on, press play! Catch Polar on tour in March: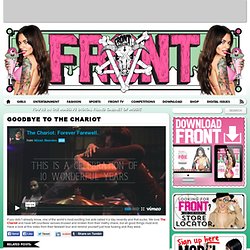 Music
Reader question: "I've always wanted to try a cardigan instead of the usual sportcoat/blazer for fall, but not sure how to pull it off without looking nerdy, frumpy or grampy. Help?" Cardigans Are Badass Before getting into how to rock a proper cardigan, let me ease your fear of cardigans making you appear unhip or overly mature. Instead, here are some adjectives I would use in praise of the cardigan: smart, handsome, masculine, respectable, stylish... badass. Yes, badass!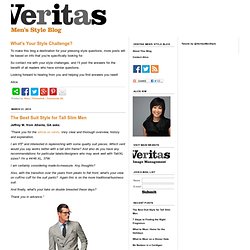 VERITAS | Men's Style Blog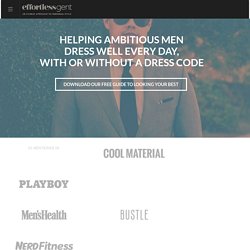 Hey Gents, On the road this week, so I wanted to keep this short and sweet, and at the same time, leave you with something awesome. In the spirit of upcoming warmer weather and (hopefully) more travel, our friends at The Motley are giving you a chance to win a free Joshu+Vela canvas and leather dopp kit filled with the complete line from Port Products. Haven't heard of Port Products? Here's a bit more about them (stolen directly from The Motley):
Effortless Gent
Guy Style Guide
Home | I Am AlphaM
ScottDisick: Say hello to my little fri
Language: English Bahasa Indonesia Bahasa Melayu Dansk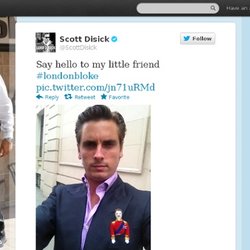 How To Talk To Girls At Parties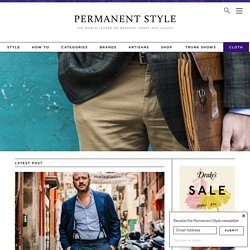 A Globe-Trotter suitcase is unique in the world because of the baseboard used to form its body. Made of 14 sheets of paper and glue, it is compressed under pressure into a vulcanised material that is lightweight yet extremely sturdy. It is a process that was invented in the 1850s and has rarely been copied due to the difficulty and expense of replicating it. Today, there are very few imitators of Globe-Trotter and the company closely guards the source of its production. Although there are few that would want to go through the process of recreating a Globe-Trotter, they could start to do so if they could find an appropriate source.
Permanent style
JAK & JIL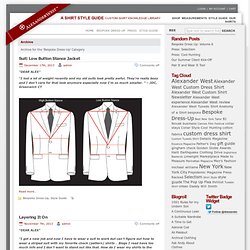 Bespoke Dress-Up | A Shirt Style Guide
Suit: Low Button Stance Jacket December 17th, 2013admin "I lost a lot of weight recently and my old suits look pretty awful.
KEVIN SEAH BESPOKE
fashion & clothing inspiration from Fashionising.com
Stuff Boys Like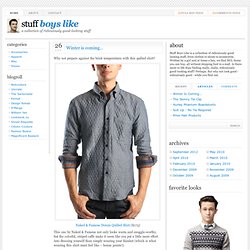 26 Sep Why not prepare against the brisk temperatures with this quilted shirt? Naked & Famous Denim Quilted Shirt ($175) This one by Naked & Famous not only looks warm and snuggle-worthy, but the colorful, striped cuffs make it seem like you put a little more effort into dressing yourself than simply wearing your blanket (which is what wearing this shirt must feel like – bonus points!). As Katy Perry once so sagely sang, "you're hot, then you're cold." Don't just take my word for it – follow Katy's advice and grab this shirt before chillier temperatures arrive.
What He Wears
The Modern Man's Guide to Culture, Style, Entertainment, and Fitness
Style & Advice
Welcome to YouTube! The location filter shows you popular videos from the selected country or region on lists like Most Viewed and in search results.To change your location filter, please use the links in the footer at the bottom of the page. Click "OK" to accept this setting, or click "Cancel" to set your location filter to "Worldwide". The location filter shows you popular videos from the selected country or region on lists like Most Viewed and in search results. To change your country filter, please use the links in the footer at the bottom of the page.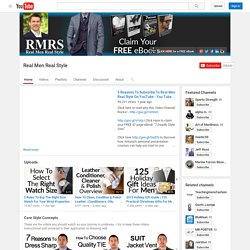 RealMenRealStyle
Men's Fashion & Style | Entertainment & Sports News | Girls |
Best Tassel Loafers: Wear It Now
Men's Fashion, Menswear Designers, Runway Shows and Grooming: Style
MR PORTER - The online retail destination for men's style
sgstyle: Thrift Stores!!!!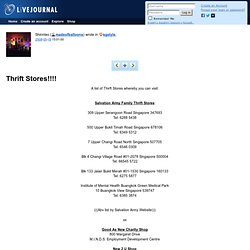 A list of Thirft Stores whereby you can visit: Salvation Army Family Thrift Stores 309 Upper Serangoon Road Singapore 347693Tel: 6288 5438
Thrift Shops, Used Goods Shops In Singapore? - SGClub Forums - Connecting Youths
The Salvation Army is a Christian Church that meets community needs without discrimination. It offers practical support and spiritual guidance to men, women and young people so they can live to their full potential. Locations and Contact Details Address: 309 Upper Serangoon Road S(347693) Telephone: 6288 5438 Fax: 6288 4506 Operating hours: 10.00am - 6.00pm, Mon – Sat Address: Praisehaven 500 Upper Bt Timah Road S(678106) Telephone: 6349 5312 Fax: 6766 9703 Operating hours: 10.00am - 6.00pm, Mon – Thu 10.00am - 9.00pm, Fri – Sat