Social Media for Business
9 Tweet Types For Your Twitter Strategy. Working as a social media consultant I've noticed that it's not the social media sites themselves that clients have a difficult time mastering, it's figuring out what to say once they get there.
They're excited to have a new platform to talk to their customers and to be part of this ever-growing social conversation, but they're lacking those handy conversation starters and the types of tweets they should be sending out to the masses. That's where the bottleneck happens. So they say nothing at all. To help those that may be stuck, below are nine types of tweets to try and incorporate into your Twitter strategy. 13 Reasons Why Using Social Media for Business is Non-Negotiable! Is there ever a time when having a social media presence is an option?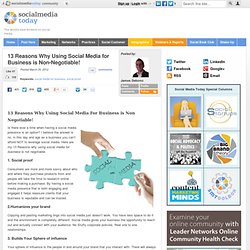 I believe the answer is no, in this day and age as a business you can't afford NOT to leverage social media. Here are my 13 Reasons why using social media for business is not negotiable. Why Influencer Marketing Needs to Go Beyond Follower Counts. Gary Lee is the CEO of mBLAST, providers of cloud-based solutions to help PR and marketing professionals better identify and engage with their key influencers.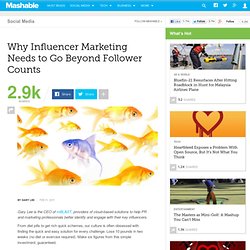 From diet pills to get rich quick schemes, our culture is often obsessed with finding the quick and easy solution for every challenge. Lose 10 pounds in two weeks (no diet or exercise required). Make six figures from this simple investment, guaranteed. We in the marketing and PR industry are not immune to the promise of the quick fix ourselves. Pinterest for Team Collaboration: Share Smarter. As a small-business owner, one of the hardest parts of planning my visits to a conference is finding the most interesting--and relevant--panels.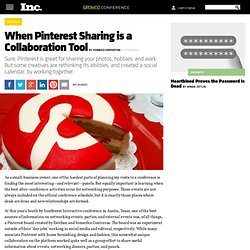 But equally important is learning when the best after-conference activities occur for networking purposes. Those events are not always included on the official conference schedule, but it is exactly those places where deals are done and new relationships are formed. 6 Ways to Acquire New Customers via Social Media. We all know social media is an important tool for brand awareness and customer acquisition — but how exactly are you supposed to convert random Twitter and Facebook users into real-life customers?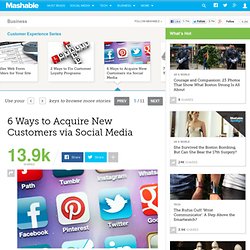 Well, that depends. Different brands have different challenges when it comes to customer acquisition: "If you're our customer, you've signed up for a year-long service, unlike the Starbucks of the world, where you can be a customer by coming in for a cup of coffee one day," says Lisa D'Aromando, social media community manager at Equinox. Whether you're a clothing shop, a restaurant or a subscription service, you must tailor your strategy so that it makes sense for your brand. That said, there are a few universal ways to help your company attract new faces on the social web. "I'm a big believer in creating and sharing meaningful content," says Danni Snyder, co-founder and creative director at jewelry brand Dannijo. 10 Ways to Humanize Your Brand on Social Media. Joe Chernov is the VP of Content Marketing for Eloqua.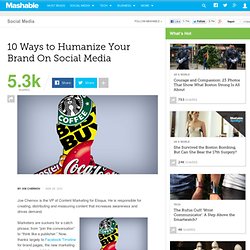 He is responsible for creating, distributing and measuring content that increases awareness and drives demand. Marketers are suckers for a catch phrase, from "join the conversation" to "think like a publisher." Now, thanks largely to Facebook Timeline for brand pages, the new marketing slogan has quickly become, "humanize the brand." Humanizing a brand simply means trying to interact with each customer on a personal level. How to Recruit with Facebook. So you've got a great job that's waiting to be filled at your company, and you decide you want to tap into the already measured power of social media recruiting.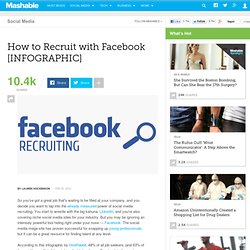 You start to wrestle with the big kahuna, LinkedIn, and you're also covering niche social media sites for your industry. But you may be ignoring an intensely powerful tool hiding right under your nose — Facebook. The social media mega-site has proven successful for snapping up young professionals, but it can be a great resource for finding talent at any level. The Power of the Social Consumer [INFOGRAPHIC] Twenty years ago, if you were dissatisfied with a company's product or business practices, you'd probably stop buying from them.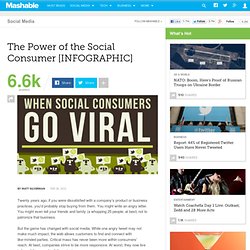 You might write an angry letter. You might even tell your friends and family (a whopping 25 people, at best) not to patronize that business. But the game has changed with social media. While one angry tweet may not make much impact, the web allows customers to find and connect with like-minded parties. Critical mass has never been more within consumers' reach. Social Media isn't Magic – It's about Staying Human on the Internet. Social Media is not magic, nor does it surprising tricks, you will need more than magic to succeed.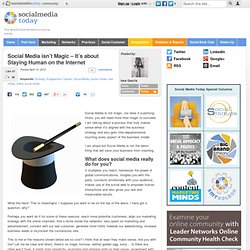 I am talking about a process that truly makes sense when it's aligned with the business strategy and also gets inter-departamental touching every aspect of the business model. I am afraid but Social Media is not the damn thing that will save your business from crashing. What does social media really do for you? It multiplies you reach, harnesses the power of global communications, mingles you with the party, connects emotionally with your audience, makes use of the social web to empower human interactions and also gives you real and measurable results. What the heck! Everything to Teach Your Employees About Social Media. Who needs an expensive social media consultant when you can train your employees in Twitter, Facebook and LinkedIn best practices yourself?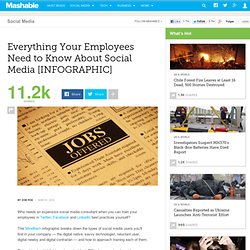 This Mindflash infographic breaks down the types of social media users you'll find in your company — the digital native, savvy technologist, reluctant user, digital newby and digital contrarian — and how to approach training each of them. This guide also highlights an important fact: 76% of companies do not have a clearly defined social media policy.
---