Science
Trey Parker & Matt Stone - SouthPark Creators on Vimeo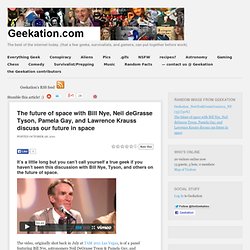 The video, originally shot back in July at TAM 2011 Las Vegas , is of a panel featuring Bill Nye, astronomers Neil DeGrasse Tyson & Pamela Gay, and theoretical physicist Lawrence Krauss—and the entire discussion is moderated by Bad Astronomy 's Phil Plait.
Each designer or agency office should be filled with creative and innovative gadgets that surprise our clients and stimulate the imagination.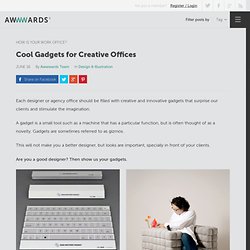 Scientists have found the biggest and oldest reservoir of water ever--so large and so old, it's almost impossible to describe. The water is out in space, a place we used to think of as desolate and desert dry, but it's turning out to be pretty lush. Researchers found a lake of water so large that it could provide each person on Earth an entire planet's worth of water--20,000 times over. Yes, so much water out there in space that it could supply each one of us all the water on Earth--Niagara Falls, the Pacific Ocean, the polar ice caps, the puddle in the bottom of the canoe you forgot to flip over--20,000 times over.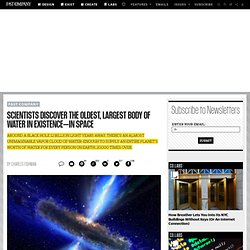 logy Magazine
A turning point in the history of life occurred 2 billion to 3 billion years ago with the unprecedented appearance and dramatic rise of molecular oxygen . Now researchers report they have identified an enzyme that was the first – or among the first – to generate molecular oxygen on Earth. The new findings, reported in the journal Structure , build on more than a dozen previous studies that aim to track the molecular evolution of life by looking for evidence of that history in present-day protein structures. These studies, led by University of Illinois crop sciences and Institute for Genomic Biology professor Gustavo Caetano-Anollés , focus on structurally and functionally distinct regions of proteins – called folds – that are part of the universal tool kit of living cells. Protein folds are much more stable than the sequences of amino acids that compose them, Caetano-Anollés said. Mutations or other changes in sequence often occur without disrupting fold structure or function.