Science
Trey Parker & Matt Stone - SouthPark Creators. The future of space with Bill Nye, Neil deGrasse Tyson, Pamela Gay, and Lawrence Krauss discuss our future in space | Geekation: where geeks go. Cool gadgets for creative offices. Each designer or agency office should be filled with creative and innovative gadgets that surprise our clients and stimulate the imagination.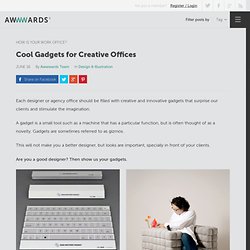 A gadget is a small tool such as a machine that has a particular function, but is often thought of as a novelty. Gadgets are sometimes referred to as gizmos. This will not make you a better designer, but looks are important, specially in front of your clients. Paint Moss Graffiti - Step-by-Step Guides for Offbeat DIY Projects.
10 Awesome Online Classes You Can Take For Free. 1. 7 of them are available via YouTube. 2. iTunes is free.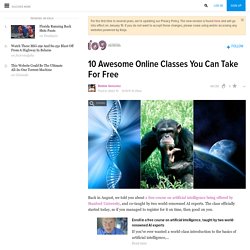 It's clunky, but who cares? Do you somehow lose geek-cred just by installing it specifically for this? Scientists Discover The Oldest, Largest Body Of Water In Existence--In Space. Scientists have found the biggest and oldest reservoir of water ever--so large and so old, it's almost impossible to describe.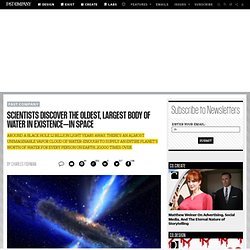 The water is out in space, a place we used to think of as desolate and desert dry, but it's turning out to be pretty lush. Researchers found a lake of water so large that it could provide each person on Earth an entire planet's worth of water--20,000 times over. Yes, so much water out there in space that it could supply each one of us all the water on Earth--Niagara Falls, the Pacific Ocean, the polar ice caps, the puddle in the bottom of the canoe you forgot to flip over--20,000 times over.
The water is in a cloud around a huge black hole that is in the process of sucking in matter and spraying out energy (such an active black hole is called a quasar), and the waves of energy the black hole releases make water by literally knocking hydrogen and oxygen atoms together. 7.014 Introductory Biology | CosmoLearning Biology. Logy Magazine. A turning point in the history of life occurred 2 billion to 3 billion years ago with the unprecedented appearance and dramatic rise of molecular oxygen.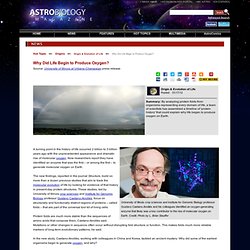 Now researchers report they have identified an enzyme that was the first – or among the first – to generate molecular oxygen on Earth. The new findings, reported in the journal Structure, build on more than a dozen previous studies that aim to track the molecular evolution of life by looking for evidence of that history in present-day protein structures. These studies, led by University of Illinois crop sciences and Institute for Genomic Biology professor Gustavo Caetano-Anollés, focus on structurally and functionally distinct regions of proteins – called folds – that are part of the universal tool kit of living cells. Protein folds are much more stable than the sequences of amino acids that compose them, Caetano-Anollés said. Mutations or other changes in sequence often occur without disrupting fold structure or function.
---