Software
Review of Multi-Tube Downloader
OnSoftware - get more from software
Completely FREE Software - 32-bit (Windows 95/98/ME/XP/Vista/7) Text-based Programs, page 10
EVEREST Home Edition is a system information, system diagnostics and benchmarking solution for home PC users. It offers memory benchmarks, hardware monitoring, and low-level hardware information. The Home Edition will not run on machines connected to a domain. For those, you will need to buy the Professional Edition. Note: EVEREST has gone totally commercial from 1 Dec 2005, so you will no longer be able to download the Home Edition from their website. The last free version is V2.20, which I have provided a local mirror for.
EVEREST Home Edition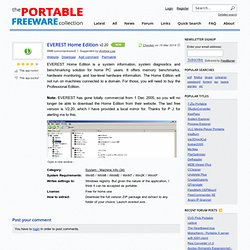 Microsoft Anna is Windows Vista and Windows 7 Text to Speech voice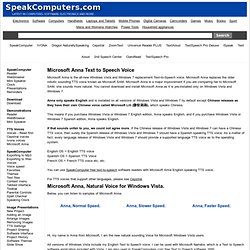 Microsoft Anna is the all-new Windows Vista and Windows 7 replacement Text-to-Speech voice. Microsoft Anna replaces the older robotic sounding TTS voice known as Microsoft SAM. Microsoft Anna is a major improvement if you are comparing her to Microsoft SAM, she sounds more natural.
Web Replay Free 3.5 Freeware download - tested and reviewed software downloads from SnapFiles
Freeware is a common term for programs that are free to use and keep. The vast majority of apps you'll find in this section are just that - free. Some authors bundle their software with a sponsored toolbar or similar third party component in order to raise funds for further development. We are very selective when it comes to promotional bundles and only accept a limited range of them.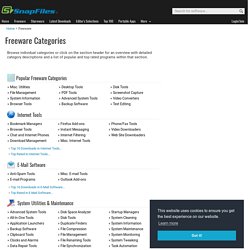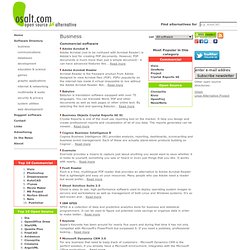 AbiWord 2.6 This word processor strives to have a user-interface very similar to Microsoft Word - in order for user to easily migrate to AbiWord. It also support import and export of Microsoft Word documents and... Read more Alfresco 2.1 Alfresco (Italian for "outdoors") is an open source, less expensive alternative to Microsoft Office SharePoint Server.
Business
IObit Malware Fighter 1.11 Download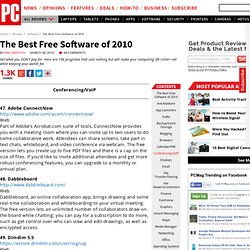 The Best Free Software of 2010 - Conferencing/VoIP
Get what you DON'T pay for: Here are 196 programs that cost nothing but will make your computing life richer—all while keeping your wallet fat. Conferencing/VoIP 47. Adobe ConnectNow http://www.adobe.com/acom/connectnow/ Web Part of Adobe's Acrobat.com suite of tools, ConnectNow provides you with a meeting room where you can invite up to two users to do some collaborative work. Anti-virus back to top Malware Removal Firewall Apps Featured The apps and services listed under "Featured" category participate in the MakeUseOf Rewards program .
Windows Apps Free Download, Download All Must-have Free Windows Apps in One Click | FreeNew