veg food
Get flash to fully experience Pearltrees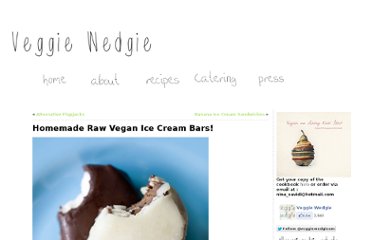 Yes, another ice cream recipe! Funny that I am posting this today, because I started a juice fast this morning! I feel like I really need it because (believe it or not) I have been eating a lot of heavy vegan food lately…Good thing that ice cream does not go bad, coz these little guys will have to wait for me a while in my freezer Anyway, back to the ice cream! I got these cool molds to make ice cream bars at home and I wanted to make a raw vegan version of the classic ice cream I used to eat as a child. My favorite was the white chocolate covered chocolate ice cream!
Black Bean, Sweet Potato and Quinoa Croquettes with Pumpkin Seed Chipotle Cream I recently asked my blog followers which of my recipes they'd like posted.
Herbs, Spices, and Seasonings
April 16, 2010
Red Velvet Cheesecake Brownies
Chocolate Chip Oreo Cookies I procrastinate from my homework the best when I'm baking.
I have a new vow to care for myself as well as I do my children. Are you with me? Let's start with breakfast.