Chiffres
Extrafilm_logo.gif (Image GIF, 240x70 pixels) Facebook Statistics by country. France Facebook Statistics - Facebakers. Facebook monitoring helps to improve your business and social media marketing strategy in every country.
Currently, there are 25 307 820 Facebook users in the France , which makes it # 9 in the ranking of all Facebook statistics by Country . Also, feel free to try our professional social media monitoring tool Analytics PRO – monitor the situation on the market, track and analyze your fans' engagement on your Facebook page, identify key influencers, response rates, and much more. Easily generate the data, compare them with your competitors or with the top brands in your field. Facebook Marketing Statistics, Demographics, Reports, and News – CheckFacebook.
Socialbakers Analytics - Power Your Social Media Performance Facebook Overview Statistics page shows a simple overview of the top performing Facebook brands and Facebook users.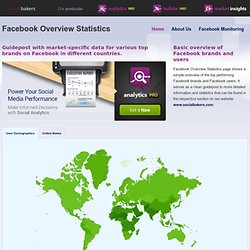 It serves as a clean guidepost to more detailed information and statistics that can be found in the respective section on our website www.socialbakers.com. United States Age: Male/Female.
---