Tools
Thread Dump Analyser
The Apache HTTP Server Project is an effort to develop and maintain an open-source HTTP server for modern operating systems including UNIX and Windows NT. The goal of this project is to provide a secure, efficient and extensible server that provides HTTP services in sync with the current HTTP standards. Apache httpd has been the most popular web server on the Internet since April 1996, and celebrated its 17th birthday as a project this February. The Apache HTTP Server ("httpd") is a project of The Apache Software Foundation. The Apache Software Foundation and the Apache HTTP Server Project are pleased to announce the release of version 2.4.9 of the Apache HTTP Server ("Apache").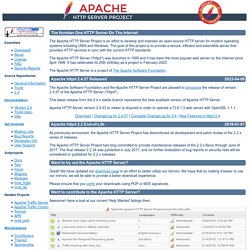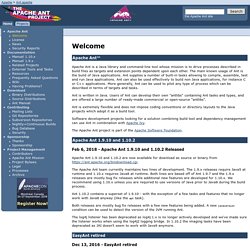 Apache Ant™ Apache Ant is a Java library and command-line tool whose mission is to drive processes described in build files as targets and extension points dependent upon each other. The main known usage of Ant is the build of Java applications. Ant supplies a number of built-in tasks allowing to compile, assemble, test and run Java applications. Ant can also be used effectively to build non Java applications, for instance C or C++ applications.
Home | Apache Ivy ™
ivybeginnersguide-484k (Objet application/pdf)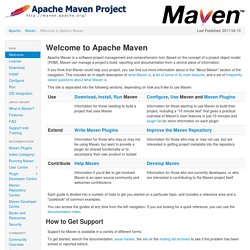 Apache Maven is a software project management and comprehension tool. Based on the concept of a project object model (POM), Maven can manage a project's build, reporting and documentation from a central piece of information. If you think that Maven could help your project, you can find out more information about in the "About Maven" section of the navigation. This includes an in-depth description of what Maven is, a list of some of its main features, and a set of frequently asked questions about what Maven is.
logstash is a tool for managing events and logs. You can use it to collect logs, parse them, and store them for later use (like, for searching). Speaking of searching, logstash comes with a web interface for searching and drilling into all of your logs. It is fully free and fully open source.