IDE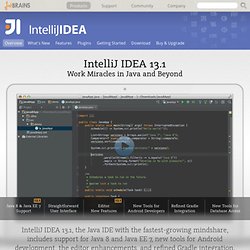 Darcula Clearer and more functional design, along with Darcula, the new stylish dark look and feel, with support for custom dark themes. Android UI Designer Exciting UI designer, one of the most anticipated features in the release. Spring Frameworks
Choosing the right IDE can make you or break you as a coder. Most developers would be lost without the comfort of their preferred IDE, which takes care of classpath, make files, command line arguments, etc. The problematic dependence on the IDE, while very beneficial, is off topic and a discussion for another post. We concentrate on 2 main platforms, Eclipse and Intellij Community Edition, comparing them, mainly in the Java SE context.
Intellij vs. Eclipse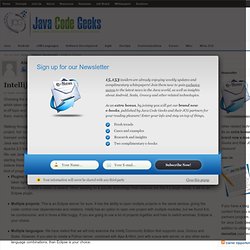 Tool Suite - The Best Development Tool for Enterprise Java
The Best Development Tool for Enterprise Java The Spring Tool Suite™ (STS) provides the best Eclipse-powered development environment for building Spring-powered enterprise applications. STS supplies tools for all of the latest enterprise Java and Spring, and comes on top of the latest Eclipse releases. Included with STS is the developer edition of vFabric tc Server, the drop-in replacement for Apache Tomcat that's optimized for Spring. With its Spring Insight console, tc Server Developer Edition provides a graphical real-time view of application performance metrics that lets developers identify and diagnose problems from their desktops.