Art
andrew brodhead
Natalia Rojas
Space and Culture › Welcome to Space and Culture – the international journal and weblog dedicated to social spaces of all kinds.
Interactives | Exhibitions | 2008 | Design and the Elastic Mind | Index
NOX | Lars Spuybroek
Art in Context - Index
Vitali Hakko | Milas Kütüphane Otomasyon Sistemi 4.703.293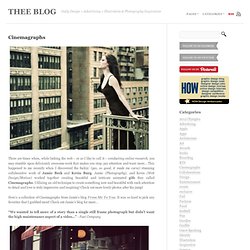 There are times when, while lurking the web – or as I like to call it – conducting online research , you may stumble upon deliciously awesome work that makes you stop, pay attention and want more… This happened to me recently when I discovered the fuckin' (yes, so good, it made me curse) stunning collaborative work of Jamie Beck and Kevin Burg . Jamie (Photography) , and Kevin (Web Design/Motion) worked together creating beautiful and intricate animated gifs they called Cinemagraphs . Utilizing an old technique to create something new and beautiful with such attention to detail and love is truly impressive and inspiring!
Hylozoic Ground - Home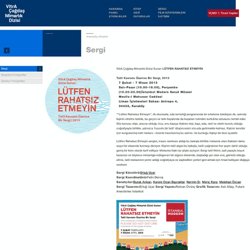 VitrA Çağdaş Mimarlık Dizisi / Sergi
VitrA Çağdaş Mimarlık Dizisi Sunar: LÜTFEN RAHATSIZ ETMEYİN Tatil Kavramı Üzerine Bir Sergi, 2013 ""Lütfen Rahatsız Etmeyin", ilk okumada, oda temizliği programında bir erteleme talebiyse de, aslında kişinin etrafını tatilde, bu geçici ve tatlı hayatında da kuşatan rutinden kurtulma arzusunu temsil eder. Söz konusu obje, aracısı olduğu rica, onu kapıya iliştiren kişi, kapı, oda, otel ve otelin kurulu olduğu coğrafyayla birlikte, yalnızca 'huzurlu bir tatil' düşüncesini vücuda getirmekle kalmaz. Kişinin kendisi için kurgulanmış tatil mekanı ‒özenle hazırlanmış bu sahne- ile kurduğu ilişkiyi de bize açabilir. Lütfen Rahatsız Etmeyin sergisi, insanı merkeze aldığı bu bakışla birlikte mekanla olan ilişkisini daha soyut bir eksende kurmayı deniyor.
Çağdaş zamanlarda insanlık bir müze salgınına tutuldu. Dünya adeta bir müzemani yaşıyor ve bu müzemani giderek Türkiye'yi de sarıyor. Peki neden acaba? Eğer en temelinde müze bir tarih sahnesiyse, aniden bir tarih düşkünlüğüne mi kapıldık? Yoksa Fukuyama gibi birçoklarının iddia ettiği gibi, 1989'da Berlin duvarının yıkılması ve Soğuk Savaş'ın sonuyla tarih sona erdi de, "ne kurtarabilirsek kârdır" derdine mi düştük ? Bu müze çılgınlığı sırasında açılan yeni müzeler, müzeleşmenin altın çağı sayılan 19. yüzyılda açılan Louvre gibi, Berlin Altes gibi "evrensel müzeler"den ve hemen hemen her Batı başkentinde açılan "ulusal müzeler"denfarklı. 20. yüzyılda açılan ve en bilinen örneği New York MoMA olan modern müzelerden de farklı.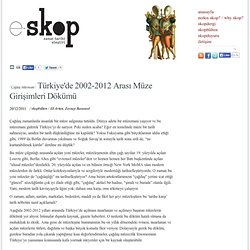 / Çağdaş Müzemani / Türkiye'de 2002-2012 Arası Müze Girişimleri Dökümü | E-Dergi, Sanat Tarihi
E-Dergi, Sanat Tarihi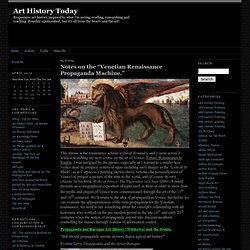 There's an important new book just come out on lesser-known French art historians, theorists of the visual who are usually under the radar. Details on Manchester University Press's web site I've got an essay on Hubert Damisch, mainly in relation to dreams in renaissance artists like Bellini and Raphael. Now I know there's a lot of hostility towards this kind of art history; but whatever you think of their style, ideas, the guff factor etc, these scholars deserve a hearing. Besides, obscurantism in art history writing is the fault of the profession, the "new" art history of the 70s- not the French. I will cheerfully use these theorists in my teaching, because frankly, not many new ideas are coming from art history in the U.K at the moment.There was a conference last year on the future of art history at the Barber Institute- but nothing on French art history.
Art History Today
KATALIST
Ayşe Erkmen
Journal Of Neuro-Aesthetic Theory #1 (1997-99) | Artbrain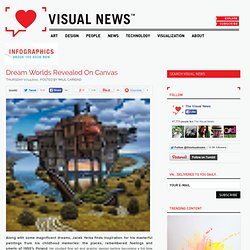 Along with some magnificent dreams, Jacek Yerka finds inspiration for his masterful paintings from his childhood memories: the places, remembered feelings and smells of 1950′s Poland . He studied fine art and graphic design before becoming a full time artist in 1980… and we're glad he did. His paintings will take you through incredible worlds of imagination, bending reality in captivating and clever ways fit to inspire a novel or film. See many more examples of his find paintings at yerkaland.com . See Also ENDEARING MONSTER DRAWINGS POP FROM THE SCREEN Via: hypeness.com.br
ISTANBUL MUSEUM OF MODERN ART
Tersninja.com
ARTER | Sanat İçin Alan
The Largest Public Art Event Ever! - Art By Chance Ultra Short Film Festival
SALT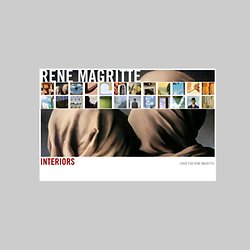 INTERIORS (PAGE FOR RENE MAGRITTE)
Pleasure 1927 The Lovers 1928 False Mirror 1928 The Treason of Pictures 1929 Los Angeles County Museum of Art
Uffizi self-portraits | Arts & Fashion | In Pictures | The First Post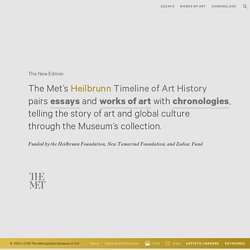 West African power associations are responsible for an array of arts, including masks, sculptures, and performances. The arts of kómó and kónó , two predominantly male institutions, have captured the attention of museum audiences in Europe and the United States. Communities across western West Africa support the two organizations and many others, including several belonging to women.
Alexander Cozens -- -- High quality art prints, canvases, postcards, mugs -- Bridgeman Art on Demand
Artsy Magazine
Çağdaş sanat neye yarar ya da huzursuz ruhlardan öğreneceğimiz ne var?
«Entarteti Kunst» Düşünmeye ihtiyacınız, arzunuz, haliniz yoksa çağdaş sanat size hiçbir şey söylemez. Söylemediği gibi, bu saçma sapan şeyleri sanat diye yutturmaya kalkanların sizi aptal yerine koyduğu hissi, ortak bir kanıya dönüşür. Sıkılan zenginler için bir tür eğlence midir bu (yoksa neden büyük sermaye çağdaş sanatla bunca iç içe olsun), küçük burjuvazinin kültürel iyi niyetinden faydalanan bir faaliyet alanı mı (entelektüel oyalanmanın, süslemenin başka bir biçimi mi)? Çağdaş sanata bu şekilde bakmadan önce unutmamamız gereken bir şey var. Düşünmeye gerçekten ihtiyacımız var mı?