Writing Exercises
Z-Type. 25 Insights on Becoming a Better Writer. When George Plimpton asked Ernest Hemingway what the best training for an aspiring writer would be in a 1954 interview, Hem replied, "Let's say that he should go out and hang himself because he finds that writing well is impossibly difficult.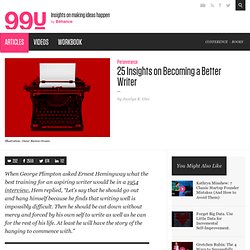 Then he should be cut down without mercy and forced by his own self to write as well as he can for the rest of his life. At least he will have the story of the hanging to commence with." Resolve to Be a More Productive Writer (Happy New Year) Sheet-for-Emotions.jpg (JPEG Image, 1700x2200 pixels) - Scaled (29%) Advice from Stephen King.
Extra Writing. Three science fiction writing exercises. English 50 Exercises for Story Writers. English 50 – Intro to Creative Writing: Exercises for Story Writers Basic Theory: What is a short story?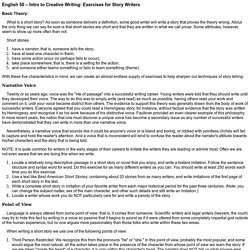 As soon as someone delivers a definition, some good writer will write a story that proves the theory wrong. Exercises for Fiction Writers - Page 2. English 50 – Intro to Creative Writing: Exercises for Story Writers More Exercises: Write the first 250 words of a short story, but write them in ONE SENTENCE.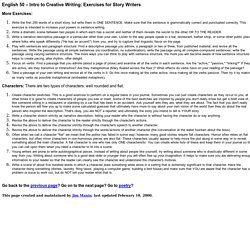 Make sure that the sentence is grammatically correct and punctuated correctly. This exercise is intended to increase your powers in sentence writing. Fifteen Writing Exercises. Updated 10/29/2012 See More Writing Exercises and Prompts Writing exercises are a great way to increase your writing skills and generate new ideas.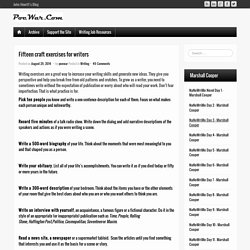 They give you perspective and help you break free from old patterns and crutches. To grow as a writer, you need to sometimes write without the expectation of publication or worry about who will read your work. Writing Exercises from The 6' Ferret Writers' Group.
---