Startups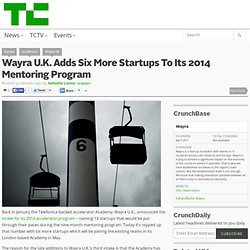 Back in January the Telefonica-backed accelerator Academy, Wayra U.K., announced the intake for its 2014 accelerator program – naming 13 startups that would be put through their paces during the nine-month mentoring program. Today it's topped up that number with six more startups which will be joining the existing teams in its London-based Academy in May. The reason for the late additions to Wayra U.K.'s third intake is that the Academy has space for 20 startups — and with only 13 slots filled earlier in the year, places remained. (A spokeswoman for the program told TechCrunch spaces can go unfilled for a variety of reasons, whether that's down to the initial shortlist not being strong enough, or not matching up with the general business ideas Wayra wants to see in the Academy at a particular time, or indeed selected startups not choosing to take up an offered place.
Wayra U.K. Adds Six More Startups To Its 2014 Mentoring Program
SkillFlick is a U.K. startup with the self-described aim of building an 'Airbnb for local skills'. The site was founded two years ago, launching in beta in January 2013 and is just opening up fully to the public this month. It's bootstrapped and is actively looking to raise a seed round now.
U.K. Startup SkillFlick Opens Its Doors As A Marketplace For Local Services — Starting In London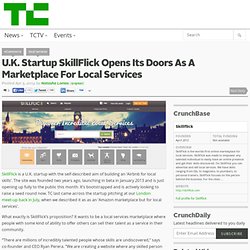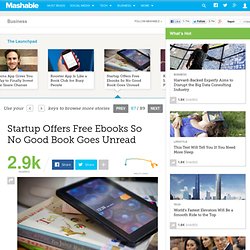 The Launchpad is a series that introduces Mashable readers to compelling startups. If you would like to have your startup considered for inclusion, please see the details here. Name: Screwpulp One-Liner Pitch: Screwpulp helps indie authors find an audience with pricing driven by demand. Why It's Taking Off: Readers can download free books in exchange for reviewing them, and as reviews and download rack up, book price increases translating into better earnings for writers.
mashable
Y Combinator is one of the best-known startup incubators in Silicon Valley. Since its launch in 2005, it has helped launch hundreds of startups, including Reddit, Scribd, Airbnb and Dropbox. Participating startups come from all over the world to spend three months tweaking their pitches, working on their products and getting ready for the final day of the program when they pitch to a room full of investors at Demo Day. This year's first group of hopefuls, who presented Tuesday in Mountain View, included a service to help passengers get reimbursed by airlines for delayed flights, a new technology to make batteries last longer and a startup that's creating new materials for 3D printing.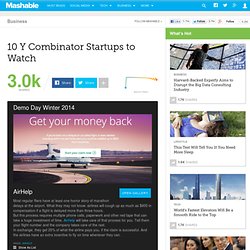 10 Y Combinator Startups to Watch
Box Files For $250M IPO On Full-Year Revenue Of $124M, Net Loss Of $168M
Augmedix nabs $3.2M for a Google Glass app made just for doctors | VentureBeat | Health | by Christina Farr
How can big data and smart analytics tools ignite growth for your company? Find out at DataBeat, May 19-20 in San Francisco. There are only 20 tickets left at the lowest rate!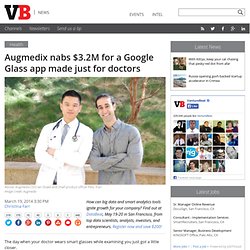 George Deeb is the Managing Partner at Chicago-based Red Rocket Ventures, a startup consulting and financial advisory firm based in Chicago. This really is not a simple question to answer. There are so many nuances that go into assessing the right answer:
Growth vs. Profit: What Should Rising Startups Focus On First?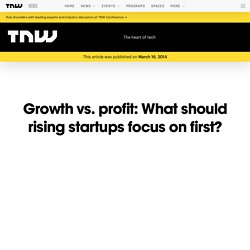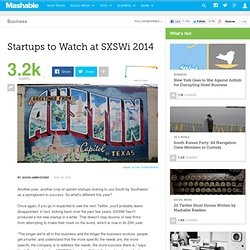 Startups to Watch at SXSWi 2014
Another year, another crop of upstart startups looking to use South by Southwest as a springboard to success. So what's different this year? Once again, if you go in expected to see the next Twitter, you'll probably leave disappointed. In fact, looking back over the past few years, SXSWi hasn't produced a hot new startup in a while. That doesn't stop dozens of new firms from attempting to make their mark on the event, which is now in its 20th year.
7 Early Stage Startups to Watch in 2014
Watching the skies, keeping our ears to the ground – paying attention to the newest, most exciting startups is a pretty big part of what we do here at The Next Web. But now and again, we like to collaborate with other companies that share our focus. So, we teamed up with Beta List – a site that documents early stage and pre-launch startups – to bring you a shortlist of some of the most exciting startups that have just launched, or are just about to launch in one form or another.
From Silicon Valley to Silicon Alley, and Berlin's hip coffee shops to East London's Silicon Roundabout, the world is well versed in the global innovation boom towns. But have you heard of what's going on in Cyprus, Sweden or North Carolina? Today, with the decentralising nature of the Internet, distributed cloud technology and a growing sentiment toward entrepreneurship, the global startup ecosystem has never been so dispersed.
8 Emerging Tech Hubs You Should Pay Attention To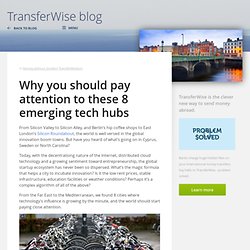 Over the years we've hosted plenty of great startup competitions at The Next Web with success stories from companies such as Waze, Rapportive, Onavo and Shutl that each went on to sell for millions in the years after their launch at The Next Web Conference. Earlier this year we set out to redesign our offering for startups and created a program called 'Boost', which we're co-hosting with WeTransfer. It's become much more than a pitching competition, we're now connecting startups with all of the resources they need to grow: capital, coverage and new customers.
15 Early Stage Startups to Watch
10 Startups to Watch in 2014
If you only focus on the multi-billion dollar valuations of young companies like Pinterest, Uber and Snapchat, you might assume 2013 has been a very good year for tech startups. In reality, it has been more of a bittersweet year. Many early-stage companies struggled to raise a Series A rounds of funding, a phenomenon commonly referred to as the "Series A Crunch," which for some meant to fight for their survival. Meanwhile, several later-stage companies like Fab and Rdio laid off large portions of their staff to rein in costs.
How Israeli Companies Can Go From Starving Startup To Growing Company
Noam Fine, co-Founder and CEO of Widdit, providing app developers engagement solutions over the mobile and Web platforms. We read every day about new startups that have raised capital and have just recently launched their app or platform. Of course, a creative idea and raising funds is only half the battle, as was recently pointed out by Zach Miller in a recent post on Forbes on Israel's flourishing startup scene. Miller argues that the real challenge is building "bigger, lasting firms." He's absolutely right. The monetization challenge
App.net, the social platform by Dalten Caldwell has launched a new crowdfunding service called Backer that allows companies to ask users for money before committing to build software features. The idea behind Backer is that when a company wants to add a new feature to its software, it should be able to test just how much users desire a hypothetical feature by asking them to commit money to the functionality being built before development even begins. App.net believes that this method works better than traditional methods of gauging user interest because "running a poll or doing informal research can easily lead to false positives" whereas asking users to commit money leads to more reliable results.
App.net launches Backer, a service to help startups and developers crowdfund new features
Winamp will get an encore after all. Radionomy, an online radio business based in Belgium, announced Tuesday that it has acquired the 15-year-old music player from AOL, along with Shoutcast, another AOL-owned property that serves up Internet radio. AOL announced plans to shut down Winamp late last year, prompting a wave of nostalgia among music listeners who relied on the service in the late 1990s and early 2000s. "Winamp is a top independent player that gives millions of people the best player functionality available," Alexandre Saboundjian, Radionomy's CEO, said in a statement. "Its role is clear in the future evolution of online media, we plan to make the player ubiquitous, developing new functionalities dedicated to desktop, mobile, car systems, connected devices and all other platforms."
Winamp Acquired, Will Live to Play Another Song
At the Defrag conference in Broomfield, Colo., this week, three themes came in the forefront: APIs, identity and data. The themes reflect the tenor of the times, which can be summed up in the turmoil at Microsoft this week: Microsoft President Steve Sinofsky left the company. Steve Ballmer said the company needed someone to work across multiple product groups and integrate services to provide a unifying experience for customers.
3 Pillars Of The New Business World: APIs, Identity, and Data
How To Create A Minimum Viable Product
5 Startups Improving Society Through Technology
Submit Your Startup - 32 Free Web Directories to Get You Users, Publicity and SEO
Going from $0 to $500k in 1 Year with no VC Money
User Experience Vision For Startups
The Age of the Female-Centric Startup
Crowdsource Original Music with AudioDraft
TxtRoo Launches A Yelp For The Feature Phone Market
Is This the Best Startup Launch Video Ever?
Accelerating Innovation in Lebanon
The JOBS Act Passes Overwhelmingly in the House
Square set for 9 Figure Revenues in 2012
Early Adopter Recruiting Startup BetaBait Helps Users Show Their Love For Apps
Entrepreneur matchmaking service Founder2Be launches premium accounts
YC-Backed SendHub Lets Businesses Text Their Customers, And Teachers Text For Free