Startups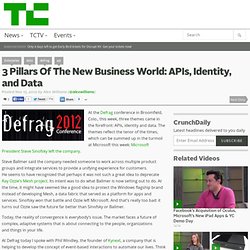 At the Defrag conference in Broomfield, Colo., this week, three themes came in the forefront: APIs, identity and data. The themes reflect the tenor of the times, which can be summed up in the turmoil at Microsoft this week: Microsoft President Steve Sinofsky left the company . Steve Ballmer said the company needed someone to work across multiple product groups and integrate services to provide a unifying experience for customers.
3 Pillars Of The New Business World: APIs, Identity, and Data
Editor's note: This is a guest post by Emre Sokullu , founder and chief architect of GROU.PS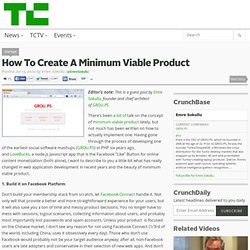 5 Startups Improving Society Through Technology
In our social entrepreneurship series, The World at Work , Mashable interviews the faces behind the startups and projects that are working to make a global impact.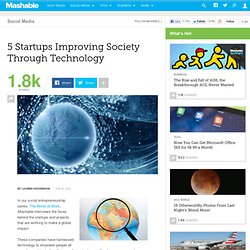 May 24th, 2011 the Chubby Team 7 Comments Your startup website / web application is ready to be used by the world. So while your friends and family use it and hopefully tell everyone they know about it and while you wait to hear back from bloggers/journalists who you hope will write about it and catapult you to "cewebrity" status, there are a ton of places you can go to submit your startup for free today . And so you don't have to go trekking around the web to find them, we've included details on all of them below to make your life just a bit easier.
Submit Your Startup - 32 Free Web Directories to Get You Users, Publicity and SEO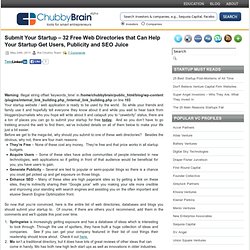 When we started building Flow , it was to scratch an itch. We were frustrated with having to use three different apps to manage our daily workflow, so we decided to build a solution ourselves. It took three of us nine months to go from napkin to reality.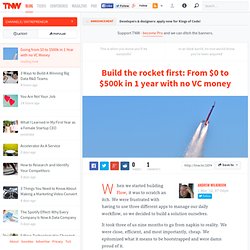 Going from $0 to $500k in 1 Year with no VC Money
User Experience Vision For Startups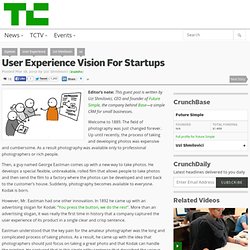 Editor's note: This guest post is written by Uzi Shmilovici, CEO and founder of Future Simple , the company behind Base —a simple CRM for small businesses . Welcome to 1889. The field of photography was just changed forever.
Only 10% of venture-backed entrepreneurs are women .
The Age of the Female-Centric Startup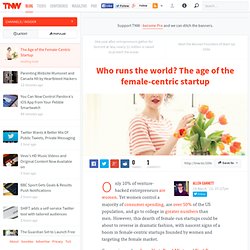 The rise of crowdsourcing has made it easier for businesses to find ideas and content, but in order to be effective, it needs to be powered by a platform suited to the job. AudioDraft is a Finnish startup that offers a platform for anyone to crowdsource music from talented composers and sound designers.
Crowdsource Original Music with AudioDraft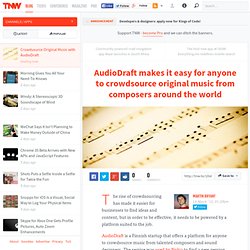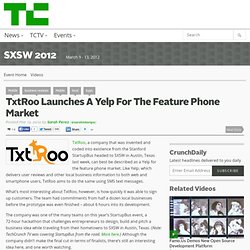 TxtRoo Launches A Yelp For The Feature Phone Market
TxtRoo , a company that was invented and coded into existence from the Stanford StartupBus headed to SXSW in Austin, Texas last week, can best be described as a Yelp for the feature phone market. Like Yelp, which delivers user reviews and other local business information to both web and smartphone users, TxtRoo aims to do the same using SMS text messages. What's most interesting about TxtRoo, however, is how quickly it was able to sign up customers.
A dollar a month for razors, shipped to your door? Most thrifty guys and gals who wield a blade in the bathroom won't need much convincing that that's a good idea for a startup. But how to ensure that they hear about it, and that they have enough confidence in the company to sign up? Simple: create a funny YouTube video — one with so much swagger, sight gags and bear costumes that it seems poised to go viral.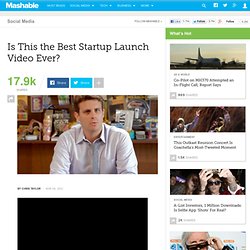 Accelerating Innovation in Lebanon
I have no idea how many innovators there are in Lebanon fiddling around in their mountain garages with dreams of dethroning Facebook, Google and Twitter.
Yesterday, in Washington, D.C., a startup-friendly bill passed in The House with an overwhelming majority– 390 to 23. The Jumpstart Our Business Startups Act (JOBS Act) was proposed to ease the rules for capital formation for small companies. According to The Hill , all "no" votes were Democrats. As described by The New York Times , "The JOBS Act centerpiece, drafted by two freshman representatives, Stephen Fincher, Republican of Tennessee, and John Carney, Democrat of Delaware, delays some Securities and Exchange Commission regulations and creates a category of "emerging growth companies" to lower the costs of initial public offerings for smaller firms."
The JOBS Act Passes Overwhelmingly in the House
It's always critical to look behind the bright shiny figure. Today, Square announced that it is processing payments right now at a rate of some $4,000,000,000 per year, or $109,58,904 per day. While that figure is impressive, it's perhaps even more astounding that Square has doubled its payment processing rate (amount of money through its system) since October of last year. That's less than half a year ago, putting Square on a growth curve that is fantastic; that it has managed to continue its growth rates in the face of a growing 'big number' problem is exceptionally impressive.
Square set for 9 Figure Revenues in 2012
BetaBait , the startup that helps new apps and services find beta testers , is introducing new features today that should give those testers more control of the experience — and give BetaBait more opportunity to make money. BetaBait doesn't quite serve the same function as a service like LaunchRock — it's less about managing the beta testing process and more about finding the users you need for those tests. So it's to cultivating an audience of early adopters, who either receive an email with a list of new startups looking for testers or search the site for products that interest them . The company offers startups a chance to receive a more prominent placement on the email by sponsoring it.
Early Adopter Recruiting Startup BetaBait Helps Users Show Their Love For Apps
Entrepreneur matchmaking service Founder2Be launches premium accounts
Back in June we introduced you to Founder2Be , a matchmaking service for entrepreneurs looking to get a startup off the ground. Now the site is taking things a step further with the launch of premium accounts. Following a similar model to LinkedIn, premium 'Pro Plan' accounts introduce features such as an ad-free experience, a 'see who has visited your profile' feature and dedicated support with fast response times. As we explained in our previous report, Founder2be users create profiles, sharing information like their location; skills; availability; previous projects; startup and fund-raising experience; ability to contribute seed funding, and co-founder preferences.
YC-Backed SendHub Lets Businesses Text Their Customers, And Teachers Text For Free