Zenadun
Old Branches
Library. Hidden jQuery Drop Down Menu for Minimalist Design. When I work for my clients, I always try to figure out the best way to organize content and hide elements that doesn't require immediate action to clean up the page a little bit while making sure to give the best user experience.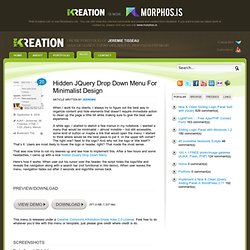 A while ago, I started to sketch a few menus in my notebook. I wanted a menu that would be minimalist – almost invisible – but still accessible, some kind of button or maybe a link that would open the menu. I started to think where would be the best place to put it. The Lifehacker Cookbook. Electronics Recycling, Computer Recycling, Metal Recycling | Free Recycling Quotes. Good Guide. I Can't Find My Phone. Another creationist dentist expert on evolution.
Another dentist comes out as an expert on evolutionary theory.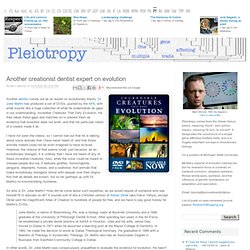 Dr. Jobe Martin has produced a set of DVDs, pushed by the AFA, with what sounds like a huge collection of what he understands as gaps in our understanding: Incredible Creatures That Defy Evolution. He then takes these gaps and marches on to present them as evidence that evolution does not work, and that his particular notion of a creator made it all. I have not seen the videos, so I cannot rule out that he is talking about some animals that I have never heard of, and that those animals indeed could not be even imagined to have evolved.
However, the chance of that seems small, just because, as an evolutionary biologist, it is unlikely that I have not heard of any of these incredible creatures. 7 Tools to keep your Mac Healthy. For the four years I've been using a Mac, I haven't used a maintenance tool.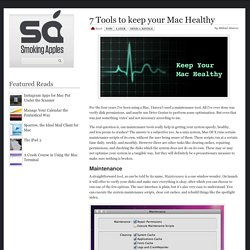 All I've ever done was verify disk permissions, and maybe use Drive Genius to perform some optimisation. But even that was just something 'extra' and not necessary according to me. Alan Kennedy's Color/Language Project - The Idiom List. Alan S.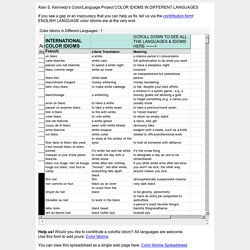 Kennedy's Color/Language Project If you see a gap or an inaccuracy that you can help us fix, tell us via the contribution form! ENGLISH LANGUAGE color idioms are at the very end. Vimeo, Video Sharing For You. Working Out / Running.
FoodRoutes - Where Does Your Food Come From? Eat Well Guide :: Local, Sustainable, Organic Food. H2O CONSERVE. Welcome to GRACE's Water Footprint Calculator (WFC) which features a brief set of questions that will get you thinking about how much water you and your household use and how water connects to almost every aspect of your life.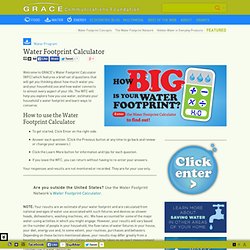 The WFC will help you explore how you use water, estimate your household's water footprint and learn ways to conserve. To get started, Click Enter on the right side.Answer each question. (Click the Previous button at any time to go back and review or change your answers.)Click the Learn More button for information and tips for each question.If you leave the WFC, you can return without having to re-enter your answers. Your responses and results are not monitored or recorded. They are for your use only. GPS Tracking.
Art. Fun. Hobbies. Cookbooks 2. Bangla. Travel. DIY Electronics. Curation. Social Entrepreneur. Pearltrees videos. Help.
---